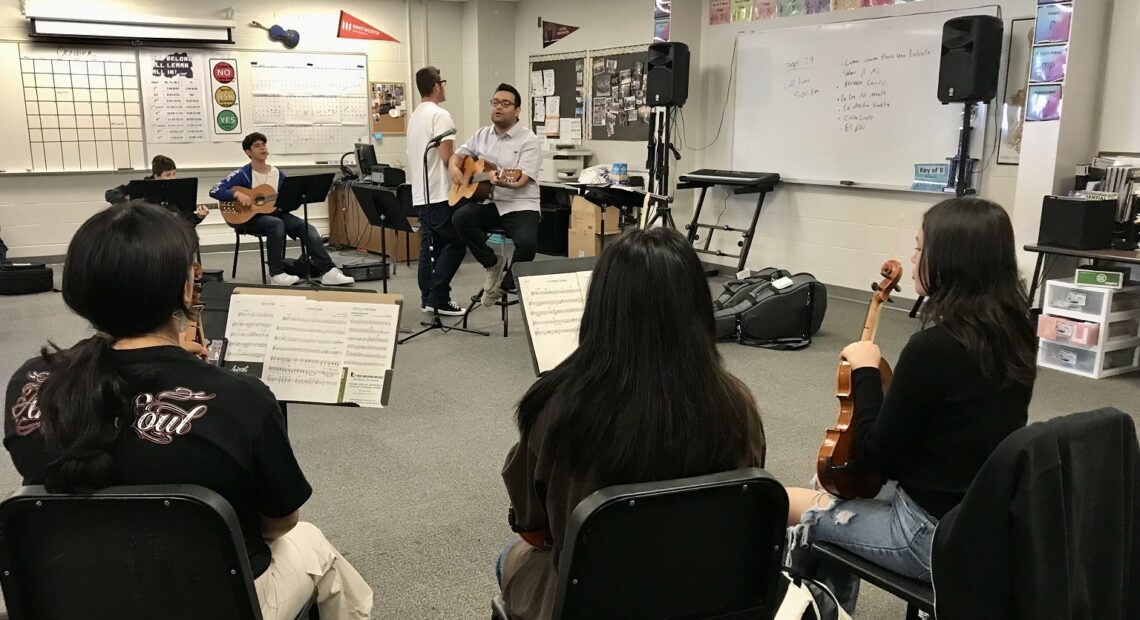 Educators share mariachi knowledge
From west to east, Washington high school educators are sharing the spirit and cultural significance of mariachi with their students.
Osbaldo Chavez is a professional musician and mariachi teacher at Pasco High School. He thinks mariachi is growing more popular all around the country.
"There are about 37 states that have programs in school districts. I have friends that live on the west side, that teach central Washington and we're in eastern. But I feel that there is more of an interest in districts … and in the community!" said Chavez.
Angel Cordoba has been in the Pasco High School Mariachi club for two years. He joined because he liked string instruments. Now, he plays the vihuela.
"The strings is the things that make the amazing noise. And I wondered if I could play with those strings, going up and down, left to right. It's something I enjoy," said Cordoba.
And Jasmine Guzman has played for three years with the Pasco High School Mariachi.
"It's fun. You get to be with a lot of people who are from different places and it brings a community together," Guzman.
For Guzman, It keeps the culture alive.
"It doesn't hide it away, or like, forget about it. In this area, there's generally a lot of Hispanic, Latino, Latinx people and I feel like [mariachi] just keeps the culture with us, in the school, and we get to show it to other people," said Guzman.
Osbaldo Chavez says the best part is seeing his student's growth.
"For me, it's just seeing the growth and seeing the love, the passion for the music over time," said Chavez.
Maria Chavez, Osbaldo's sister, is also a well-known mariachi teacher and performer. She says learning mariachi is a source of pride among students and families with different backgrounds.
"This summer there was a grandpa with his grandkid, and he was in his 60s and he was also learning how to play mariachi music. They're from a different culture, they didn't know any Spanish. I feel like it's the same across all ages," she said.
Maria Chavez was the only woman from Washington to perform during a Celebration of Women in Mariachi in New Mexico.
Enrique Cortes-Solorio is the Mariachi Huenachi Director and a mariachi teacher at Wenatchee High School.
"It started off as an after-school program in the early 90s. And it just really evolved, it became part of the curriculum. Because there was so much interest, our program has over 300 students."
But these programs are not only growing at high schools. Central Washington University offers a unique Mariachi Heritage Certificate.
Jason Dormady, a professor of history, participated in the certificate creation.
"Being pioneers in this area is, I think, something that we owe the students. We should have courses, not only in the vocational things, but also in the cultural things that they can help broaden and develop and know that they're valued here because we appreciate what they bring and they can share with each other," Dormady said.
Bret Smith is a professor of Music at Central Washington University.
"It's significant, it's symbolic, beyond the musical growth or the learning of language and culture and history. The students of the arts and humanities that may not be specifically musicians would find some value in a deeper approach," Smith said.
The programs are optional but remain very popular among students.