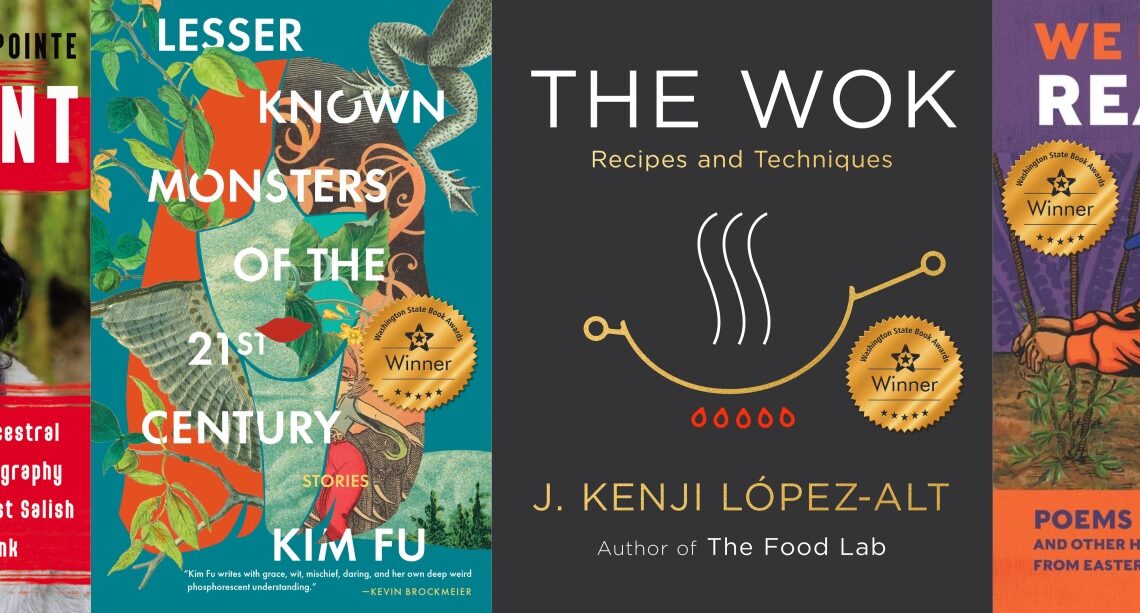 Ganadores del Washington State Book Award hablan de linaje y de narración generacional
Por Johanna Bejarano y Lauren Gallup
Washington Center for the Book entregó los Premios del Libro del Estado de Washington 2023 para libros destacados publicados por autores de Washington. Lauren Gallup entrevistó a Sasha taqʷšəblu LaPointe y Johanna Bejarano entrevistó a Ricardo Ruiz – dos de los ganadores.
Sasha taqʷšəblu LaPointe es autora de "Red Paint: The Ancestral Autobiography of a Coast Salish Punk," que ganó el premio en la categoría de No Ficción Creativa/Memoria 2023.
LaPointe pertenece a las tribus Upper Skagit y Nooksack. "Red Paint" narra sus experiencias y las de las mujeres que la precedieron en el territorio Coast Salish.
Cuando LaPointe se distanció por un tiempo de la escritura, empezó a aprender más sobre su ascendencia.
"Empecé a hablar con mi madre sobre las mujeres de nuestro linaje", contó LaPointe.
La historia de Comptia Koholowish le fascinó. Koholowish fue una niña superviviente de la epidemia de viruela. LaPointe afirmó que la historia de Koholowish la llevó a profundizar en ella. "Para mí, era honrar su fuerza y su vida y volver a conectar con ella".
Para escribir su libro, LaPointe viajó a las zonas donde vivían las mujeres de su linaje. LaPointe dijo que estar en esos lugares donde vivieron sus antepasadas fue una parte importante de su "propio viaje hacia la sanación".
Las memorias tratan de traumas -vividos, generacionales, históricos-, pero LaPointe no ve el libro como una narración de traumas.
"Realmente quería y me interesaba hacer lo que desafía esa narrativa", dijo LaPointe. "Y en lugar de ir a estos lugares para revivir el trauma, quería volver a conectar con la resistencia y la fuerza de estas mujeres y estas historias".
LaPointe dijo que ha tenido lectores que se han puesto en contacto con ella, compartiendo su aprecio por unas memorias que detallan tanto el trauma como la fortaleza.
Por su parte, Ricardo Ruiz es un poeta y escritor que creció en Otelo. Ruiz dice que escribió su libro "Teníamos nuestras razones" para contar a sus hijos la historia de sus abuelos inmigrantes.
"Deseaban aprender por qué vinieron sus abuelos y por qué hablan inglés y viven en Estados Unidos y no español en Chihuahua", dijo Ruiz.
Pero sus historias adquirieron significado para toda una comunidad y reflejaron las vidas de muchos, incluido un camionero jubilado que recibió el libro de su hija.
"Para ella, dijo que fue una de las primeras veces en su vida adulta que vio a su padre leer y entablar conversaciones sobre las historias de por qué vino y no sólo leer, sino leer poesía", dijo Ruiz.
Ruiz recibió el Premio en la categoría de Poesía.
Su libro recoge historias de inmigrantes. Todas ellas evolucionaron a partir de entrevistas con narradores -familiares, amigos y otros miembros de la comunidad- hasta convertirse en poemas, como parte de un proyecto colaborativo, documental, de poesía.
"Mis padres, las señoras que me criaron, no son poetas, no son poetas de formación clásica", dijo Ruiz.
"Pero poder trabajar en colaboración realmente eleva esa voz, y esa representación de que las historias importan, tu verdad importa, tu humanidad importa", añadió.
Ruiz dijo que el objetivo también es crear conexiones. Y el autor ya está trabajando en su próximo proyecto, centrado en historias de veteranos como él, que sirvieron en Irak y Afganistán.
"Uno de mis propósitos en la vida es dar voz a los marginados, proporcionar un espacio para que se oigan sus voces y compartir historias de personas que a veces son olvidadas", dijo Ruiz.
La versión original de esta historia fue publicada en inglés el 27 de septiembre de 2023.