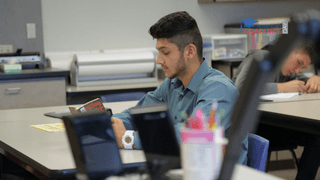 English Learners
If you've ever learned another language, you're familiar with how difficult it can be. Now imagine being an immigrant in high school. At Southridge High School in Kennewick, the English Learner program is helping a diverse group of students succeed in school.
Kristina Hocking leads the English Learner program at Southridge.
"When they enter in high school, they don't have a lot of time to learn the language," Hocking says. "They have four or five years to accomplish and master the language and meet all the same graduation requirements that their English speaking peers have to meet."
In the late 1990's, teacher Laurie Sarver noticed immigrant students struggling. So she sought funding to start an English Learner program. At Southridge, students have sheltered instruction where academic subjects are taught in English with help from paraprofessionals, a person who is not licensed to teach but performs many duties to assist the students' understanding.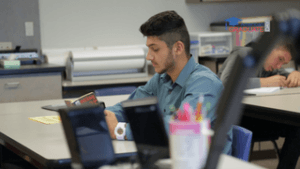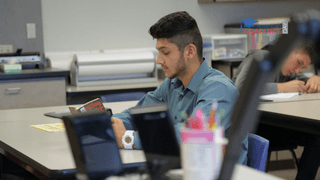 Hocking says the program works because the students are diligent.
"They're incredible," she says. "They work so hard and they're so excited and they're so grateful for the educational opportunities they get. And I feel you make a difference with those kids."
One of those students is senior Abdulazeez Hussein, from Iraq. He likes to be called Azeez. And also loves working on cars.
"Since I came to this school I have grown rapidly with English," Hussein says.
He sits in a classroom with students from the Marshal Islands, Russia, Guatemala, Venezuela and Thailand. Of Kennewick students who speak a foreign language at home, 78 percent speak Spanish, and nearly five percent speak Arabic.
"What I like about the United States is the teachers are respectful and nice and they don't hit you. Especially Ms. Hocking is nice," Hussein says.
Teacher Kristina Hocking says she has seen incredible growth in Azeez since she started teaching him.
"This year he's mainstreamed for his entire day with the exception of set lab, so he brings homework to my set lab class and gets help if he doesn't understand the English, or if he just needs a little more time on something."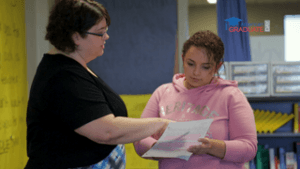 Hocking refers to mainstreaming, which means a student is in regular class with native English speakers. Principal Molly Hamaker-Teals says mainstreaming is the goal of the English Learner program.
"I think that one of the most successful parts of our English Learners program is how we transition our students through," Hamaker-Teals says. "We have different levels of support that we provide. We look at our students who come in, we assess them and give them appropriate schedules and levels of support."
And the program is working. Especially for Hussein.
"My teacher helps me read because I never liked to read especially in other languages," he says. "She brought me a book called "Overdrive," and I really like the book, so I kept reading it and reading it."
One big challenge for English learners is confidence. They are afraid they won't fit in.
The program teaches students life skills, too, like how to study, advocate for themselves and cultural differences.
Hocking encourages her students to speak English in public and tells them most people will try to understand them.
"One big challenge for English learners is confidence. They are afraid they won't fit in," Hocking says. "They are afraid people will make fun of their accents or that they won't know how to say what it is they want to say." 
Hocking says the advice she gives to the community is to encourage students to try to speak English, since the students they know enough that you can understand them, fostering communication and better learning.
Student Azeez Hussein is on track to graduate, and he hopes to pursue his interest in working on cars. 
"I want to graduate high school, because I want to get my mechanic's certificate," he says.