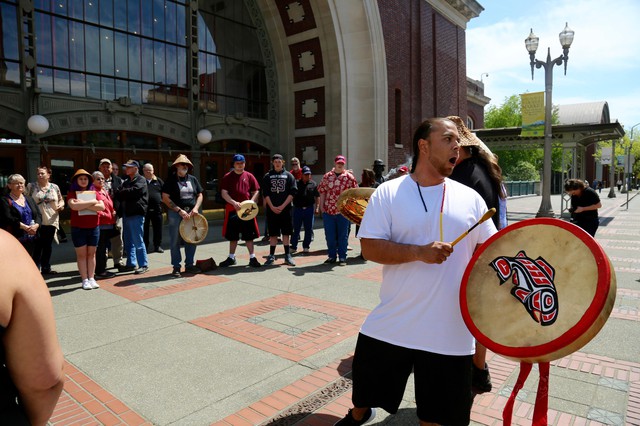 Chinook Tribe Has Its Day In Court, But Still Faces Long Road To Recognition
The Chinook Indian Nation is taking its fight for federal recognition into the courtroom. U.S. District Court Judge Ronald B. Leighton heard oral arguments and will take the next two weeks to decide if the case moves forward. 
The hearing comes after the Chinook hit the Interior Department with a lawsuit in 2017 to force the U.S. government to give the tribe federal status.
The department responded with a motion to dismiss the case. Judge Leighton's decision could dismiss the case outright or allow some claims to proceed.
Members of the Southwest Washington tribe, whose ancestral lands sit at the mouth of the Columbia River, gathered outside the federal courthouse in Tacoma on Tuesday afternoon.
The Chinook beat traditional drums and burned sage to welcome what they hope could be the beginning of a new path toward federal recognition.
A crowd filled the hearing room and the upper balcony shortly after, although some members stayed behind in the main lobby after security denied drum sticks and traditional canes inside the courtroom. 
"It's unbearable to us," said tribal chairman Tony Johnson, "that our people on our own land are not even acknowledged."
The battle for recognition is a familiar story for tribal members, who have been fighting for federal status for more than a century.
"The Chinook hired our first lawyers in 1899 to fight about our land issues at home," Johnson said. "And here we are, all these years later, fighting this battle."
The tribe was briefly recognized in 2001, but had its status revoked 18 months later by the George W. Bush Administration. 
Federal recognition would allow the Chinook to establish a reservation and gain native fishing rights. Johnson says it would also open up certain health, education and cultural benefits for the tribe's nearly 3,000 members. 
Despite never receiving federal status, the Chinook Indian Nation have played a prominent role in Pacific Northwest history. The tribe guided Lewis and Clark on their journey west. The tribe's language was used to communicate with white settlers and fur traders. And their name has been lent to a warm breeze, a type of salmon and even a military helicopter.
"Our people have been fighting a war for a heck of a long time," said tribal elder Joe Brignone, 79, after the hearing.
"It's something I've dreamed since I was a little kid," he said. "I'd like to see it happen in my lifetime."
Copyright 2018 OPB