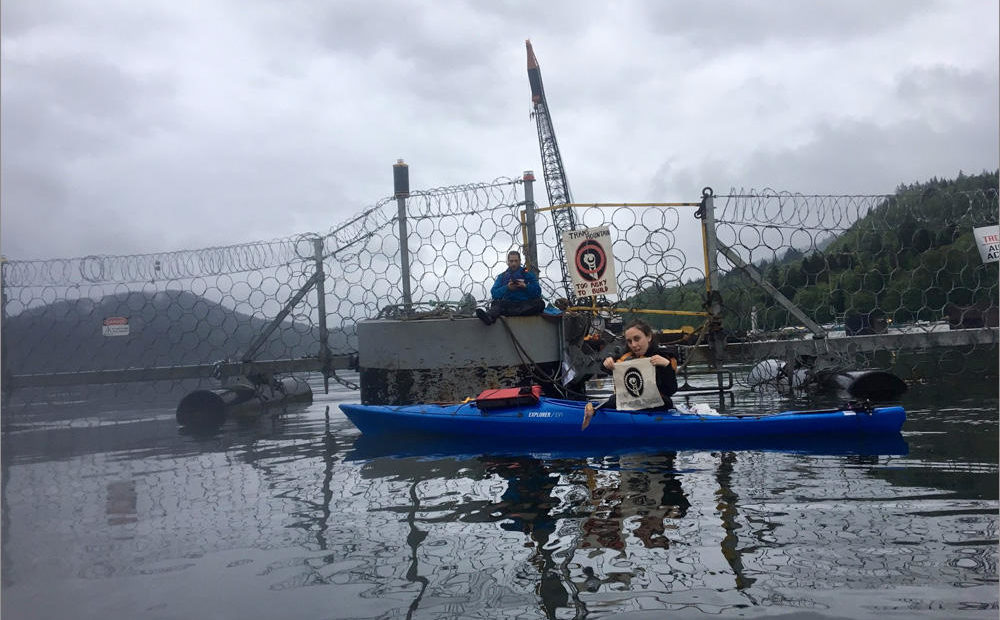 Trans-Mountain Pipeline Protesters Object To British Columbia-Washington Expansion
Demonstrators took to land and sea in British Columbia Wednesday as energy giant Kinder Morgan hosted shareholders at an annual meeting in Texas. In Houston, tribal leaders voiced their opposition to the company's proposed expansion of the Trans-Mountain Pipeline—a project that could increase the amount of crude oil shipped to Washington state.
Oil from that pipeline is shipped from tar sands in Alberta to Washington state refineries in Tacoma, Ferndale and Anacortes. An expansion would create a second, twin pipeline and add more oil tankers.
"We do not believe the risks of the project have been accurately evaluated nor fully disclosed," said Neskonlith Band Chief Judy Wilson.
She and other tribal leaders from British Columbia made an emergency trip to Texas. Wilson also spoke on behalf of the Union of British Columbia Indian Chiefs during Kinder Morgan's annual shareholders meeting. Expanding the pipeline has also garnered opposition from Washington Gov. Jay Inslee, as well as British Columbia Premier John Horgan and Vancouver, B.C., Mayor Gregor Robertson.
"It threatens our culture, our spirituality and our identity and our way of life and that means fundamentally more to us than anything that they could offer us," Wilson said.
She added that some shareholders accepted an invitation to visit indigenous territory in Canada.
In April, Kinder Morgan halted all non-essential spending on the Trans-Mountain Pipeline in response to widespread opposition of the expansion proposal. The company has self-imposed a May 31 deadline to make a final decision on whether the project is viable.
During their annual meeting, shareholders voted in favor of two resolutions: One to produce annual sustainability reports; another calls for a report by 2019 that outlines the company's financial risk from climate change. Chairman Rich Kinder said the board "will carefully consider the proposals," He noted both resolutions are non-binding.
The Secwepemc Nation is awaiting a verdict from Canada's Federal Court of Appeals that challenges federal approval of Kinder Morgans proposal to expand Trans-Mountain. First Nations in Canada argue that the proposal lacks tribal consultation.
As the shareholders meeting took place in Texas, demonstrators in British Columbia blocked the gates to a Kinder Morgan Terminal outside of Vancouver. So-called kayaktivists also paddled to a marine gate at the terminal. According to the Royal Canadian Mounted Police, at least one was arrested.
Copyright 2018 Northwest News Network