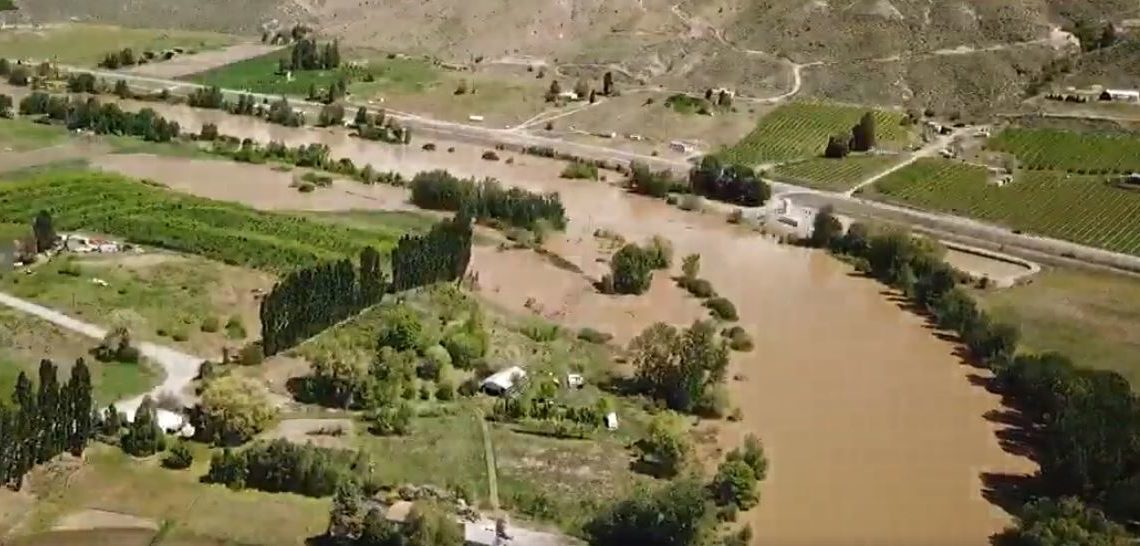 Okanogan And Ferry County Flooding: Emergency Information And Updates
Conditions in Okanogan and Ferry counties have moved to a major flood state, where Governor Jay Inslee has declared an emergency.
NOTE: This is a developing story. Information and conditions can change quickly. This page will be updated as needed.
UPDATE: FLOOD CONDITIONS CHANGE, STAY ALERT, May 22, 2018:
Water levels remain above flood stage on the Okanogan River, but have receded from the previous outlook.
– The Red Cross shelter in Tonasket has demobilized, according to Okanogan County Emergency Management. 
– The Okanogan River remains closed to recreation activities by order of the sheriff. Lake Osoyoos remains a no-wake zone through the Memorial Day weekend. 
– Contact the county emergency operations center at 509-422-7348 for more information. 
– Some response crews have demobilized as the flood conditions have lowered in recent days. But officials say to stay alert and be prepared for continued high water and dangerous river conditions in the coming weeks.
UPDATE: FLOOD OUTLOOK CHANGES, May 18, 2018:
Emergency managers are moving into "defense mode" and are now predicting somewhat lower water levels.
That's because the cooler weather is expected in the coming days, according to the National Weather Service, which will likely slow snowmelt in the mountains.
But there is some uncertainty since forecasters are not sure how much snow has already melted or how much more might come down from Canada. 
Equipment and personnel that are no longer needed for flood response are being released, but emergency management teams plan to remain in Okanogan County at least through the weekend. They're working to strengthen the sandbag barriers they've been building all week to protect homes and critical infrastructure. Managers are also concerned about water-saturated ground that could cause instability. 
For more updated announcements, see the county emergency management agency on Facebook.
PREVIOUS REPORTING AND EMERGENCY INFORMATION:
The National Weather Service has issued a flash flood warning in Okanogan County as slow moving storms could bring heavy rain to the region. Eleven rivers in north central and eastern Washington state are already near flood stage or higher.
Severe thunderstorms could dump more than a tenth of an inch of rain in Okanogan County and burn scars from severe wildfires here in recent years means all that water could come rushing off hillsides.
The Emergency Services Department for the Confederated Tribes of the Colville has issued evacuation notices for eight homes on the east side of the Okanogan River near Omak.
Currently, no other evacuation notices have been issued, but emergency managers encourage the public to remain prepared.
Elsewhere east of the Cascades, Winthrop could see a quarter inch of rain. The nearby Methow River is nearing flood stage. And in Ferry County, where there's also been severe flooding, Republic could receive close to half an inch of rain overnight.
The flash flood watch is in effect through May 25.
OKANOGAN RIVER
The Okanogan River is expected to continue rising through the coming weekend to a level not reached since the historic flood of 1972.
Emergency management officials are trying to protect drinking water systems throughout the Okanogan Valley from flood water contamination.
In Oroville, they're using sandbags to protect city wells that supply drinking water to residents within the city limit. Outside of the city, residents typically depend on their own wells for water.
"I think the main concern is all the outlying areas that have home use wells and any of those are probably on low lying areas are already contaminated," Oroville Mayor Jon Neal said.
According to emergency managers who gathered for a public meeting at the Oroville High School Wednesday night, municipal drinking water systems in cities along the river have not been affected by flooding.
Trucks of all sizes have been driving up and down the highway carrying loads of sand. A few filled with furniture—presumably someone's belongings on their way to higher ground.
"Well, we've already had a disaster," said Jeff Sevigney, a public information officer for the Northeast Washington Interagency Incident Management Team. "Last Saturday, the water crested over 21 feet and damaged a lot of structures, displaced a lot of people."
Locals said the Okanogan River usually crests three times in the spring. But this second round of high water could be extreme.
Emergency Crews and volunteers in Tonasket have filled thousands of sandbags here in the last week. The U.S. Army Corps of Engineers is sending nearly 500,000 more. 
Oroville high school and middle school students have helped fill and distribute thousands of sandbags. Other towns down the valley, including Tonasket, Riverside, Omak and Okanogan, continue to see rising water and seek assistance filling sandbags and plugging holes in dikes along the Okanogan River.
The Okanogan Emergency Management agency has opened an emergency operations center and asks anyone seeking information to call 509-422-7348.
Potable drinking water is available at these locations, according to the county emergency management agency:
– Oroville: City Shop, 915 Appleway
– Tonasket: City Shop, 500 Railroad Ave.
– Riverside:  City Hall, 101 1st Street
For more updated announcements, see the county emergency management agency on Facebook.
KETTLE RIVER
The Kettle River near Curlew is at its highest level ever recorded. Highway 21 between Curlew and the Canadian border is closed in places due to water over the roadway.
Those seeking assistance in Ferry County are asked to contact the sheriff's office at 509-775-3132.
 The Spokane County Swift Water Rescue team has assisted Ferry County in evacuating at least three people from around the Kettle River.
For more updated announcements, see the Ferry County sheriff's office on Facebook.
RED CROSS SHELTERS
The Red Cross has set up two shelters in the Okanogan and Ferry counties region:
–Tonasket: Holy Rosary Catholic Church
–Republic: Ferry County Fairgrounds
FLOOD OUTLOOK
The National Weather Service in Spokane says to expect flood conditions in Okanogan and Ferry Counties to remain high for at least the next week, and possibly three weeks.
NWS meteorologist Steven Van Horn says to be alert around smaller water bodies, too.
"Even though some of these larger rivers might get more press for lack of a better word, he said. "Even the creeks and some of these streams just because of the amount of snow that's coming into those as well we'll be seeing issues or problems."
STATE OF EMERGENCY AND NATIONAL GUARD
Washington Governor Jay Inslee has declared a state of emergency for nearly all of Central and Eastern Washington. Twenty counties are facing heavy flooding as rapidly melting snow makes its way into rivers and streams.
There are nine rivers east of the Cascades seeing major or moderate flooding, or that are nearing flood stage. Over the next few days temperatures are forecast to rise to near or above 80 degrees. That means snow at higher elevations is likely to melt and enter waterways rapidly.
In a statement, the Governor says flooding has damaged water and sewage treatment facilities, inundated local roads and state highways and impacted utilities. Communities like Oroville, Omak and Tonasket are seeing major flooding from the Okanogan River.
In Pend Oreille County, residents of Usk, Cusick and Newport have been filling sandbags in anticipation of high waters on the Pend Oreille river.
The emergency proclamation allows the governor to activate Washington's National Guard if necessary. The flood threat is expected to persist for at least the next seven days and possibly several weeks.
The city of Omak has a levy that's handling water flow, but is experiencing backup in storm drains as of Saturday, May 12. Some residents and businesses in Omak are experiencing basement flooding, according to an Omak Police Department release.
Officials with the U.S. Army Corps of Engineers and Okanogan County Emergency Management are continuing to monitor river levels.
Omak City Administrator Todd McDaniel said the city brought in additional pumps to handle water flow and is on 24/7 watch.
"We believe the levy is going to hold. We are concerned about (water) seepage coming in, but I think we'll be fine," he said. "We are hoping we don't have anyone displaced."
Further east in Washington, the Pend Oreille River is forecast to reach a flow of more than 118,000 cubic feet per second by next Thursday, which hasn't occurred since 2011.
Reporting contributed by Emily Schwing, Esmy Jimenez, Scott Leadingham and Zachary Garner. Additional reporting by the Associated Press.