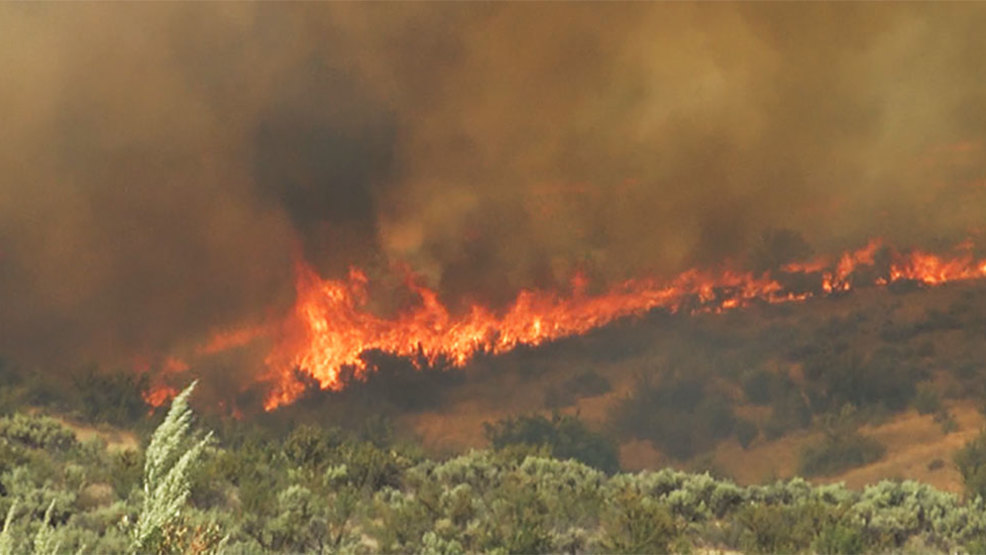 UPDATE: Central Washington Conrad Fire By Naches Nears Containment, Threat Level Lowered
UPDATE, July 3, 2018: The Conrad fire burning near Naches in Yakima County is reaching containment as fire managers get a handle after two days of significant growth. As of Monday morning, the Washington Department of Natural Resources reported 85 percent containment of fire line and no significant threat to structures. As of this morning, the DNR said the fire had burned over 5,300 acres. A cause is still under investigation. 
ORIGINAL STORY:
A large wildfire now called the Conrad fire is burning outside of Naches, in central Washington. It started Sunday afternoon, July 1, and as of Monday afternoon, July 2 was estimated at more than 5,000 acres and about 20 percent contained.
About 250 firefighters were scrambling to dig lines to hold back the fire. It's burning in largely rural areas of sagebrush and wild grasses.
On Monday afternoon there were around 80 addresses on Level 1 evacuation, which means be aware, packed and ready to go. So far, there are about 30 structures surrounded by burned area that have been saved by fire crews.
State officials have been called in to help manage the fire. Red flag winds and very low humidity are expected throughout the next couple of days.
Firefighters are working hard to keep the fire from reaching another fire scarred area from last summer. That area is largely carpeted by highly-flammable cheat grass. If the fire reached that scar, officials say they worry it could eat up a lot of ground quickly.
On Monday, winds were driving the Conrad fire in that direction. It's amid rough terrain where crews can't reach, so aircraft are dropping water on those lines to try and hold it. The red flag warning for critical fire danger remained in effect throughout south-central and southeastern Washington and north-central Oregon. Fire managers expect that area of the Northwest to be particularly prone to fires this season.
Crews were also trying to get a handle July 2 on smaller fires burning in similar conditions near Quincy in the Columbia Basin and a remote area of Chelan County near Entiat.
Most of the central Northwest region is at normal to elevated risk for large fire spread through this week, according to fire weather forecasters.