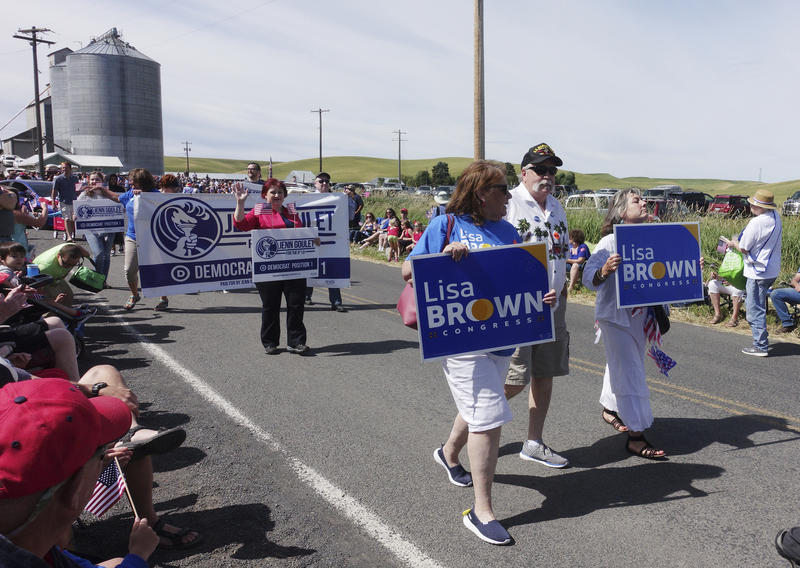 'We've Got Some Work To Do.' Republicans React To Washington Primary Results
Note: The Washington Secretary of State pushes updates semi-regularly as vote tallies come in. See the most updated vote tallies from the SoS office.
Washington Republicans are regrouping after a primary election pounding Tuesday that extended beyond swing districts to rock-ribbed GOP pockets of the state.
"Obviously this didn't go the way that we'd like it to," said J.T. Wilcox, leader of the House Republican Caucus, on Wednesday morning.
ALL RESULTS: See all Washington primary results and highlighted races from NWPB's Elections page
Republicans were trailing in 16 state House seats — from Grays Harbor County to Spokane — that are currently held by the GOP. Republicans were also in a deficit position in four state Senate seats they currently hold.
Among the Republican incumbents facing a potential Democratic "blue wave" come November was state Sen. Doug Ericksen of Ferndale, a vocal supporter of President Donald Trump, who had 46 percent of the vote after the first count Tuesday night. The two Democrats challenging him earned a combined 54 percent.
"We've got some work to do," said Caleb Heimlich, state Republican Party chair. "There are some national trends at play."
Heimlich said over the next 90 days until the November election, Republicans would work to connect with independent and swing voters about local issues such as taxes and "reminding voters what's at stake" if Democrats gain more seats in the Legislature.
Both Heimlich and Wilcox said they expected late-arriving ballots to favor Republicans. But even so, the early results clearly put Republicans on notice.
Wilcox said his imperiled incumbents are no strangers to tough fights and are well-connected in their districts.
"Our members, the ones who are motivated to get out and activate their contacts [and] remind people of the way that they've fought for them in the past, they're going to do very well," Wilcox said in a voicemail message.
Meanwhile Democrats, buoyed by the early results, suddenly saw seats in play that they had not anticipated could be potential Democratic pick ups this year. This included in the 6th Legislative District, a Republican stronghold west of Spokane, where Republicans were trailing in two House races and an open state Senate contest.
"The Republican brand is extremely damaged," said Christian Sinderman, a Democratic political strategist. "It's an automatic disqualifier for an increasingly large number of voters."
The early primary results prompted a gleeful Democratic Gov Jay Inslee to tweet an image of a blue wave and an invitation to President Donald Trump to visit Washington. "@realdonald trump the #waelex results last night were deeply concerning for Republicans," Inslee wrote. "They need your help! Please come and campaign for them in WA this fall!"
Even as Republicans lost ground, incumbent Democrats in key swing legislative districts polled comfortably ahead of their challengers. For instance, state Sen. Steve Hobbs of Snohomish County—a key target of Republicans—had 57 percent of the vote after the initial vote count.
"This election shows tremendous Democratic momentum for November," state Sen. Jamie Pedersen, chair of the Washington Senate Democratic Campaign, said in a statement.
CONGRESSIONAL UPSETS?
At the Congressional level, Democrats were also performing well after Tuesday's early results.
In three districts currently held by Republicans — the 3rd in southwest Washington, the 5th in eastern Washington and the 8th spanning from the Seattle suburbs to Wenatchee — Democrats appeared to have a fighting chance heading into November.
ALL RESULTS: See all Washington primary results and highlighted races from NWPB's Elections page
In the 8th, where Republican Dave Reichert is retiring, the three leading Democrats had a combined 49 percent to Republican frontrunner Dino Rossi's 43 percent.
In the 5th, Democratic challenger Lisa Brown, a former state Senate majority leader, was virtually tied with incumbent Republican Cathy McMorris Rodgers.
And in the 3rd, Republican incumbent Jaime Herrera Beutler had just 41 percent of the vote to the leading Democrat's 37 percent.
However, Heimlich was taking comfort in other numbers, including the share of overall votes for Republican primary candidates as well as the past performance of the incumbents.
"I'm not panicked at the Congressional level by any stretch," Heimlich said.
For instance, he noted that in 2016 McMorris Rodgers got just 42 percent of the primary vote and then went on to win the general election with 60 percent of the vote. He also pointed out that the combined vote Tuesday night for all Republican candidates in the 5th Congressional District primary was 53 percent. 
However, in the 8th Congressional District — which has always elected a Republican — the picture was a bit murkier. The combined vote for Republican candiates was just 47 percent after the initial count compared to 50 percent for the Democratic candidates in the race.
In the seven-way race in the 3rd, the combined vote totals for the Democratic and Republican candidates was evenly split with each side getting 50 percent of the vote.
After the initial vote count Tuesday evening, former Washington state Republican Party Chair Chris Vance, who has since left the party to support independent candidates, tweeted: "Tonight, this looks like 1994 in reverse."
It was a reference to the Republican wave that swept the nation and the state of Washington 24 years ago during President Bill Clinton's first term.