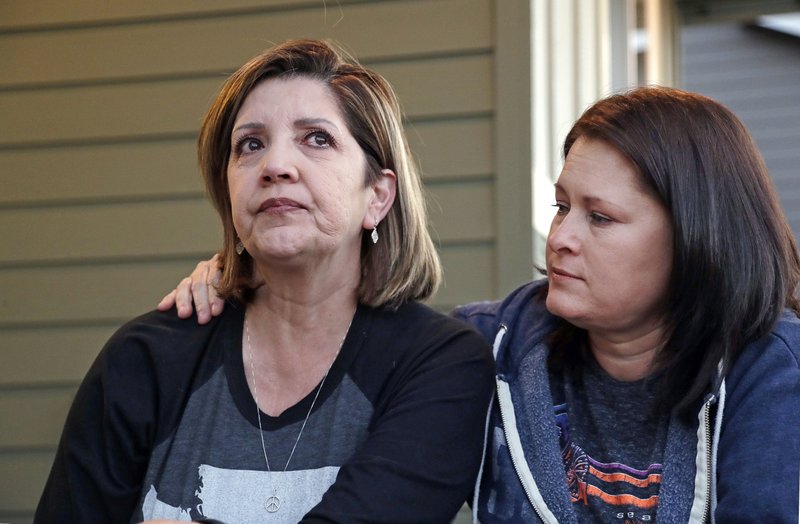 Washington Couple Learning To Cope A Year After Near-Death At Las Vegas Concert Mass Shooting
BY AMANDA LEE MYERS & SALLY HO / AP
Every time Chris Gilman leaves her home in Bonney Lake, Wash., she fights the gnawing urge to turn around and check that someone isn't about to shoot her.
Sometimes she wins the battle. Sometimes she loses.
In the year since the 48-year-old was nearly killed in the worst mass shooting in modern U.S. history, Gilman has had to get used to living with fear: She has nightmares about family members getting shot, she only sits in spots in restaurants where she can see the exits, and she has to mentally prepare herself for movies that might include rapid gunfire.
And then there are crowds, the toughest new obstacle Gilman must brave since surviving the Oct. 1, 2017, massacre in Las Vegas, which killed 58 people and wounded hundreds of others. Gilman was shot in the back; the bullet punctured a lung, lacerated her spleen and a kidney, broke two ribs and lodged 2 millimeters from her spinal cord.
"There are times I'm at the grocery store and I feel that desire to turn around and look and see who's behind me," Gilman said. "I try to fight it, to just keep walking, and I think, 'You're at the grocery store. There's no one behind you with a gun.' But I always feel like I'm looking behind me."
That feeling turned into panic at one of Gilman's first concerts since the shooting.
Gilman and her wife of 18 years, Aliza Correa, were with friends at Seattle's KeyArena following an Aug. 11 concert when the surge of people around them became overwhelming.
"All of a sudden I felt like the Tasmanian devil, where I was spinning in circles trying not to have anybody behind me," Gilman said. "I tensed up and thought, 'Here it comes, here it comes, I know I'm going to get shot. Who's behind me, who's behind me?' In your mind you know it's crazy to think that way, but when the visions come up it's hard to control."
Gilman grabbed her wife's hand and told her she was freaking out, "but it was too late."
"I was hyperventilating, and I ended up laying on the ground," said Gilman.
Correa is struggling with her own trauma. She was at the Route 91 Harvest Festival in Vegas with Gilman when a lone gunman busted out the windows of his 32nd-floor hotel room and launched an 11-minute barraged of gunfire on the crowd below.
The women were helping a wounded friend when the bullet tore through Gilman.
Gilman laid down and told Correa to save herself. Correa refused to leave her side.
"I said, 'If you die, I die, so if you don't want me to die, you have to get up," Correa said, recounting how she rolled Gilman over so her injured wife could Army-crawl for cover under some bleachers.
From there, Gilman said she knew she couldn't go any farther. That's when two married off-duty Los Angeles County sheriff's deputies, Alex and Wanda Valiente, came upon the couple.
"My wife and I are going to get you out," Alex Valiente told Gilman. "I just need you to help us. I just need you to get up."
Overcome with exhaustion and pain, Gilman told everyone: "Just leave me."
The Valientes and Correa wouldn't budge.
"Get up," Alex Valie