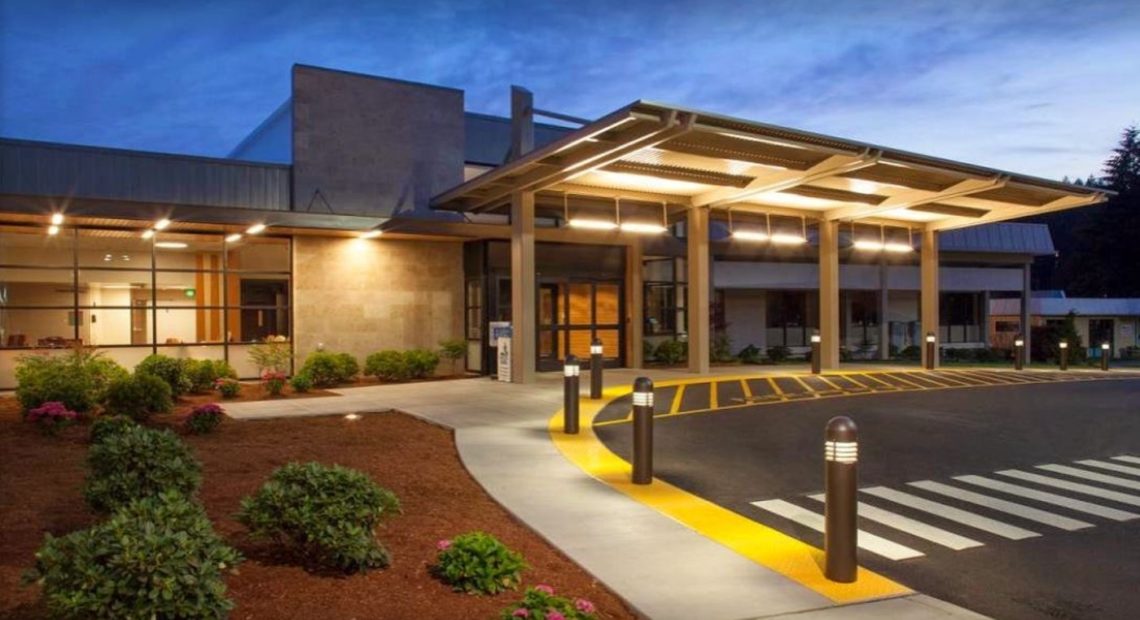 A Developmentally Disabled Man Was Left At A Washington ER. He Was There 3 Weeks
BY KATE WALTERS / KUOW
Mason was dropped off on December 12 in the emergency room in Shelton, Washington.
He is an adult with developmental disabilities who was living in a residential facility, but whose caregivers decided they could no longer care for him because of behavioral issues. He was taken to the emergency room for a medical evaluation.
He stayed at the hospital through the holidays — not because he was sick, but because the state couldn't find anywhere else for him to go, according to hospital staff. He remained there for three weeks, finally being discharged Thursday.
Mason is not this individual's real name. A pseudonym and gender have been assigned by the staff at Mason General Hospital in Shelton to protect the individual's identity.
And Mason's case is not unique, according to a new report from the Developmental Disabilities Ombuds, an independent office. The report found at least 12 cases like his, people living in hospitals for weeks or months as they wait for the state to find them another place.
Dr. John Short, an emergency room physician at the hospital, has chronicled Mason's story on his blog. He said in one post that the residential facility believed Mason would go to a psychiatric facility. Instead, he was taken to the hospital and left there.
Emergency room staff cleared Mason for discharge. But 20 days later, he remained living in a hospital room.
Dr. Short said Mason has been a client of the state's Developmental Disabilities Administrationsince he was a child, and the state should have found a new residential facility to place him in quickly.
The hospital can't discharge Mason without knowing he has somewhere safe to go, Dr. Short told KUOW. But they also can't be reimbursed for costs because there is no medical reason for him to remain.
Dr. Short said the cost to the hospital is tens of thousands of dollars. He said the emotional cost to Mason is high, as he is confined to one room and had to be restrained during his initial days in the hospital.
"It's obviously not the right place for people like Mason, and it's a huge burden on small hospitals," Dr. Short said. "We're limited in the number of patients we can keep in the hospital and every bed then becomes precious to the community."
Most of the cases examined in the Ombuds report involve individuals who are clients of the state's Developmental Disabilities Administration (DDA). The state contracts with service providers who provide care to adults with developmental disabilities in residential homes or group-home settings.
"Some individuals went to the hospital for a medical condition, but when they were ready for discharge, they had no place to go because their residential services provider had terminated their services," the report said.
"Other individuals were dropped off at the hospital by a provider who could no longer manage their care."
Betty Schwieterman, with the Office of Developmental Disabilities Ombuds, said she was surprised to learn the state doesn't track how often their clients wind up living in hospitals.
That's why the ombuds report couldn't put a number on how many people are stuck living in this situation. Schwieterman said this needs to be addressed on a systemic level.
"There aren't the services to support people when there is a crisis," Schwieterman said.
The report recommends the state contract directly with specialty providers so caregivers can access things like medication management and behavioral health services to help keep their clients safe and in their own homes.
The report also recommends an increase in the number of crisis beds available. The state does have places for people to go if they need to stabilize or wait for a new placement due to severe behavioral issues, but those spots are consistently full.
Schwieterman said better trained and compensated service providers are also necessary to help prevent people from ending up living in hospitals.
Officials with the state's disabilities administration said the ombuds' report is accurate and they're aware of the issue. They said they're already working to increase provider wages in order to help with staff retention and make it easier to find placements for clients. They're also working to increase the number of crisis beds in the state. Both changes need to go through the state legislature.
The office has also recently brought on someone from behavioral health to help make connections with the behavioral health system, officials said.
Overall, the state believes only a small number of their clients end up in this situation, according to Debbie Roberts with the disabilities administration. For those who do end up stuck in the hospital, Roberts said it can take time to find appropriate placements for clients with severe behavioral issues.
Copyright 2019 KUOW. To see more visit kuow.org