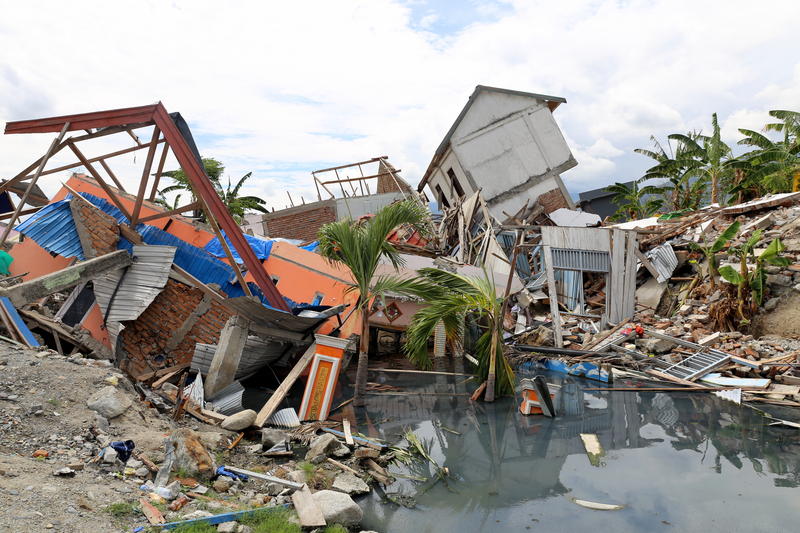 How The Northwest Can Learn From Indonesia's 2018 Earthquake
Last September, a magnitude 7.5 earthquake followed by a tsunami devastated a region of Indonesia, killing more than 4,300 people. Two Oregon State and University of Washington professors who surveyed the aftermath say the far-away disaster should elevate attention to quake-induced landslide risks here at home in the Pacific Northwest.
The severe earthquake rocked Central Sulawesi at nightfall on September 28. A tsunami struck the regional hub city of Palu minutes later. The tsunami waves caused some deaths, but the majority of victims perished inland from landslides that crashed into, swept away or buried outlying neighborhoods.
Associate Professor Ben Mason of Oregon State University's College of Engineering co-led a team of experts to the disaster scene six weeks later. His team just published a detailed analysis of the geologic processes and damage they investigated. The massive landslides and mudflows triggered by the Indonesian quake left a deep impression on Mason.
"Our coastal hills here in Oregon and Washington are actually steeper than what we had seen in Indonesia," Mason said by phone from Corvallis. "So we realized that we are at risk for very similar types of events."
State agencies in Oregon and Washington are using an airborne instrument called LIDAR to identify landslide-prone slopes. LIDAR uses pulses of laser light to pierce the foliage of trees and bushes and map the ground underneath. Overflights have produced a trove of data, much of which still needs to be interpreted by a human though. And then local officials have to decide whether to act, such as by restricting development in risky areas.
"It really comes down to zoning," Mason said. "Perhaps we need to think about moving a road or we need to think about, for instance, adding drainage into the sides of the hills to try to keep as much water as possible off of these slopes."
The Oregon Coast Range is of particular interest to researchers because of the vulnerability to landslides of the highways that connect the Pacific Coast with cities in the I-5 corridor. Those highways through the Coast Range would be lifelines to deliver relief to the stricken coast after The Big One, a magnitude 9.0 rupture of the offshore Cascadia fault zone. Alternatively, shallow faults underneath nearly all of the Northwest's major cities could trigger landslides.
A research team led by assistant professor Alison Duvall at the University of Washington has mapped almost 10,000 active and historic landslides in the Coast Range, which the team is now trying to categorize and date to see if peaks in the landslide record correlate with past Cascadia megaquakes.
Another University of Washington professor, geotechnical engineer Joe Wartman, was part of the five member American team that traveled to Indonesia. The Americans were joined on scene by Indonesian geologists, engineers and researchers.
Wartman said the debris fields reminded him of the rain-triggered 2014 Oso landslide in Snohomish County, Washington, which he also investigated. But he said the Indonesian slides were magnitudes greater in scale.
"Much of our focus has been towards precipitation-induced landslides and clearly that is a threat," Wartman said in an interview Thursday. "But we need to think very seriously about earthquake-induced landslides as well."
It has become standard practice for international teams of geologists and engineers to journey to major earthquake scenes as soon as practical to mine for lessons that could reduce future loss of life. The National Science Foundation supports these post-disaster missions through a volunteer organization called Geotechnical Extreme Events Reconnaissance. The organization's mission is to gather perishable information for case studies that can be used in future research and to improve building engineering and disaster resilience.
Wartman recently completed a map of landslide hazard zones for Seattle in the event of a temblor on a nearby crustal fault or if the feared Cascadia fault unleashes. Many of the identified risky locations are built up.
"There are people who have their livelihoods there and it's not so easy to pick up and move from those locations," Wartman said. "It's an important question to wonder what you do when you're working with a high consequence-low probability event. Those are really difficult questions that policymakers face and we in the geohazards community face."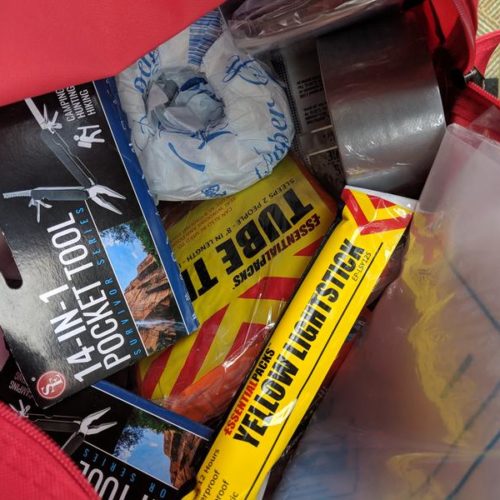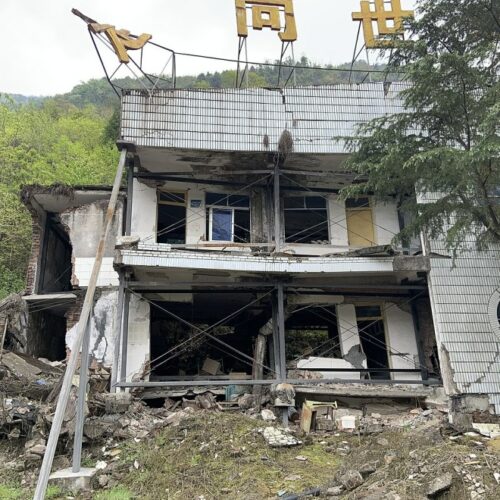 Tens of thousands of public school students in Washington state returned to classes this month in school buildings judged to be at risk of collapse in a strong earthquake. A new report to the state Legislature prepared by state geologists and a structural engineering firm gave the lowest possible seismic safety rating to more than 90 percent of the school buildings assessed in a selective statewide survey. Continue Reading Hundreds Of Washington Schools Start Academic Year With Failing Grade On Quake Safety