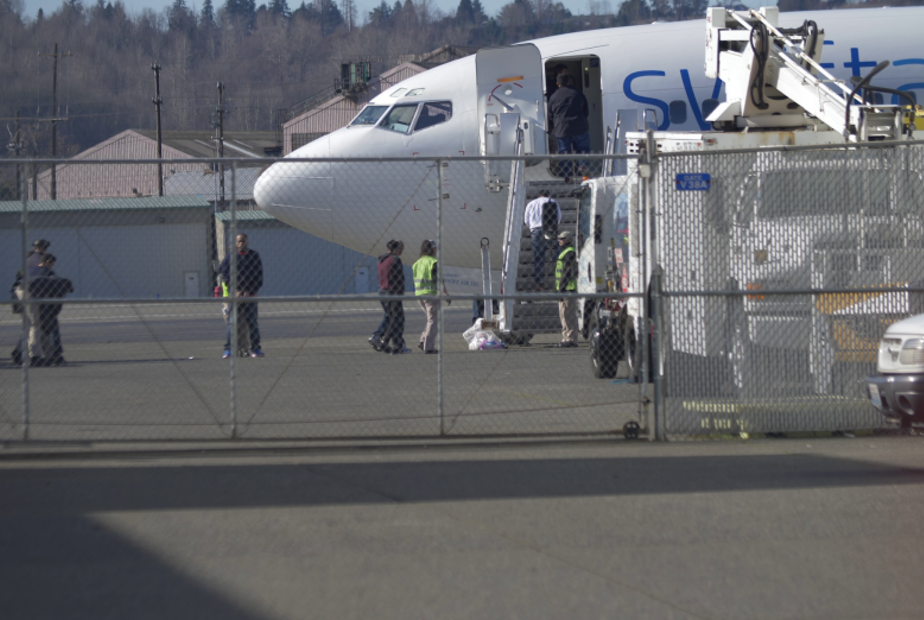 ICE Lands Deportation Flight In Yakima After Losing Access To Seattle's Boeing Field
BY ESMY JIMENEZ / KUOW
After losing its only flight operator at Boeing Field last week, U.S. Immigration and Customs Enforcement switched to the Yakima Air Terminal in central Washington.
A flight Tuesday morning brought in 42 migrants who were then bussed from Yakima to the Northwest Detention Center in Tacoma.
Another 92 undocumented immigrants from the detention center were then flown south to El Paso, Texas.
Yakima City Manager Cliff Moore watched the whole thing from 20 yards away.
"All the individuals were shackled in leg irons and handcuffs," he said. "The handcuffs were attached to a chain around their waist. The majority were men, most of them were in their twenties."
Moore asked an ICE agent at the terminal what would happen to the detainees. He was told they would be deported and flown to Mexico City or bussed across the border.
The detainees were asylum seekers who had their cases rejected.
The last time ICE used the Yakima Air Terminal was in 2016.
ICE wouldn't confirm whether it's switching flights from Boeing Field to the Yakima Air Terminal.
In a release, the agency said it would "fully utilize its nationwide assets to ensure mission accomplishment."
This comes after King County Executive Dow Constantine issued an order effectively banning ICE deportation flights from Boeing Field back in April.
Moore said Yakima City Council members suspected ICE might divert flights to their airport, but didn't think it would happen so soon.
Yakima is about 50 percent Latino and does not have any sanctuary policies in place. Yakima City Council members are monitoring the situation.
Copyright 2019 KUOW. To see more, visit kuow.org