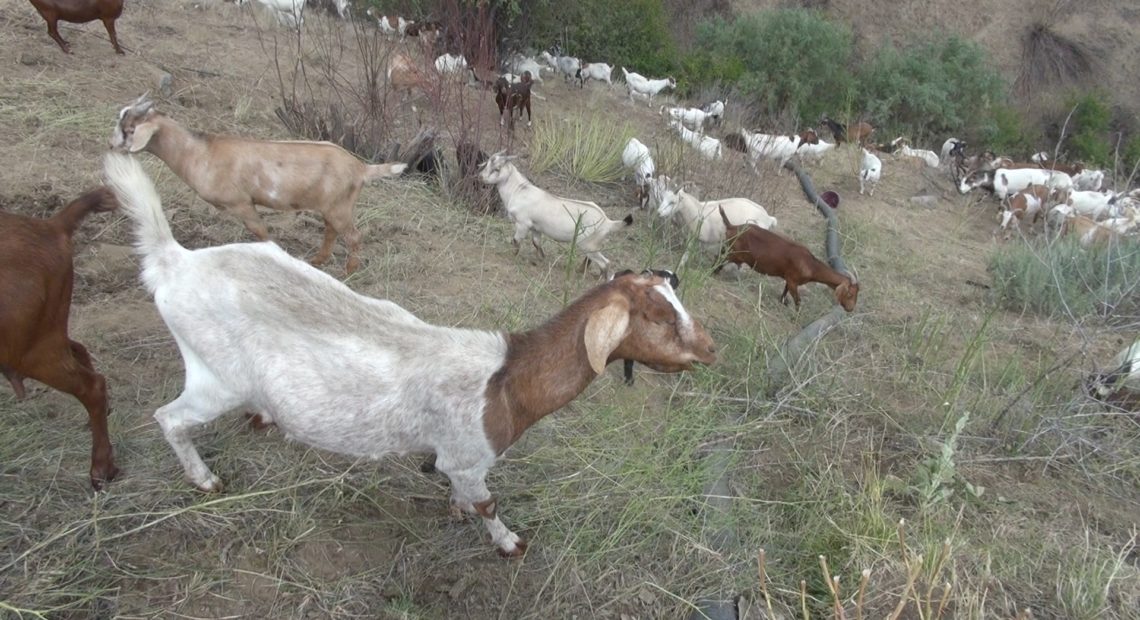 Hey, That's My Grass! Goats Chomp Fire Fuels Around Previously Burned Wenatchee Neighborhood
On the western edge of Wenatchee, homes wind up hillsides. Many properties back up to rolling foothills. In this neighborhood, thick brush and grasses creep up to people's backyards. It's hard to see to the bottom of the drainage.
Firefighters say the thick vegetation needed to be thinned, but the work would be time-consuming, risky and expensive. In the heat. On a steep hillside. With rattlesnakes.
So they're bringing in reinforcements.
"Goats," Billy Porter called to his herd. They bleated an answer almost in unison.
Yes, the firefighters are using goats.
WATCH (story continues below video)
More than 300 Spanish-cross goats moseyed along the hillside, eating all the brush their little hearts desired.
They chomped down on the fine grasses (that several firefighters say they could only get to with a controlled burn). The goats hopped on rocks to reach trees. The brush and the hillside were no match for their voracious appetites.
Goat herder Billy Porter, who owns Billy's Goats Targeted Grazing Services, said they'll eat for up to 17 hours a day.
"That one there is just standing up on that brush on that steep bank going to town. If you give them the opportunity, they'll eat as much as they can," Porter said.
So far, it seems to be doing the job. Chelan Fire District No. 1 Chief Brian Brett said the acre the goats have eaten looks completely different than it did 24 hours earlier.
"I had no idea how aggressively they would they would chow down on the vegetation," Brett said.
It's exactly what he'd hoped for, especially after seeing fire race up this hillside in 2015.
Thick patches of brush fueled the flames.
Thirty homes and three industrial buildings burned down in the Sleepy Hollow Fire.
Four years later, many homes in this neighborhood have been rebuilt or updated to be more fire resistant.
Brett said his firefighters are moving on to improve the terrain — with the goats' help.
"This slope is so steep it would be a daunting process to work on. The goats make easy work of it," Brett said, looking down the hillside.
Porter's herd has helped tame weeds before, but this was the first time his goats have munched on grass to help slow large wildfires. He said this steep hillside is like home to the goats.
"They're very agile and athletic animals, so they'd love to prance and hop off big rocks and logs and kind of scoot down the hillside and back up," Porter said.
Porter and a fellow herder strung up an electric fence in 1-acre sections to keep the goats concentrated in an area before moving on.
They'll move the goats five times down this drainage.
Community wildfire liaison Hillary Heard is herding this particular program for the fire district. She said the goats appear to eat much of the extra vegetation, like wild rose and serviceberry, but they're also leaving some of the native plants.
"It's very much a balance between wanting to do fuels reduction work and also making sure that we leave the vegetation for the native habitat, too, for the mule deer and everything like that," Heard said.
One big problem grass the goats won't eat at this time of year is the invasive plant cheatgrass. When grass fires spark, cheatgrass burns quickly, fueling wildfires and allowing them to grow even faster. 
Right now the cheatgrass is too dry and prickly. That's why the fire district plans to bring the goats back at different times and in different spots.
"It's just another tool in our list of resources, using different methods to make communities more fire resilient," Heard said.
She said they'll likely replant some native grasses and shrubs to help stabilize the steep slopes. It'll have the added benefit of beating out the invasive grasses, like cheatgrass, that help fires grow.
"This will benefit the site in a number of ways," Heard said. "One: An improvement of vegetation type will keep grasses greener longer into the fire season. Two: increase in soil stability. And three: hopefully establish a site that can be grazed every three years to keep the wildfire fuels in check."
District Chief Brian Brett said they hope to eventually create a fire break around the western edge of Wenatchee.
"The intensity and duration of the flames is lessened and if we actually have an established fire line, it gives us the opportunity to get ahead of the fire," Brett said.
For 10 days the goats ate until they had to take a break. They chewed hardy shrubs and fine grasses, right up to the electric fence line.
For the goats, it was all food and fun. For the onlooking neighbors, that feast meant protection from future fires.
Additional contributions on this story: David Steves of Oregon Public Broadcasting provided editing for radio and digital versions. McKayla Fox of NWPB provided video editing support.