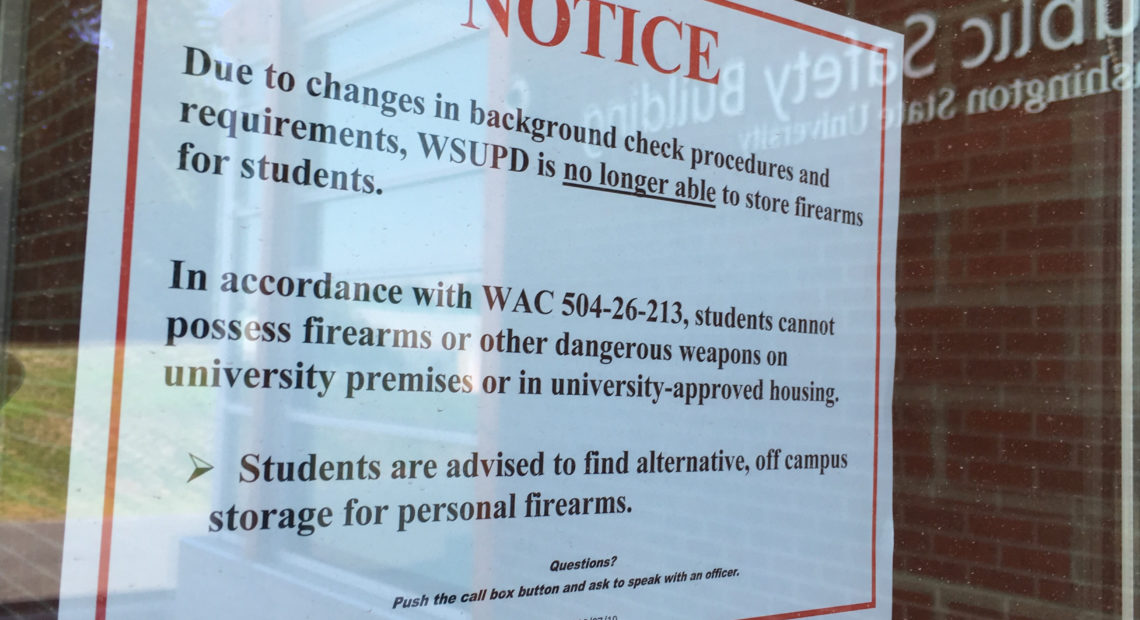 Campus Police Will No Longer Store Guns For WSU Students After New Legal Interpretation
Firearms are not allowed on the Washington State University campus in Pullman — whether carried by a person, stored in a dorm room, or even locked in a car. Until now, those wanting to legally and safely store their guns could do so with campus police.
But now students will no longer have that option, due to a new interpretation of state law applying to university police forces like WSU's.
WSU Police assistant chief Steve Hansen says the department now interprets state law to mean transferring firearms back to a student — say, to go hunting for a day — would require a background check and mental health evaluation. He says they've been trying to get out the word ahead of the fall semester, which begins Monday, Aug. 19.
"There were notices sent out by housing," Hansen said. "Direct communications to those living in student housing, to say, hey look, we're no longer doing this service for you." 
 Hansen says the policy is also likely to change for other state school police forces, like Central Washington University in Ellensburg. That's because the new interpretation comes from the state Attorney General's office working with the Washington State Patrol.
 According to Hansen, WSU police usually store about 40 to 50 firearms – mostly rifles for hunting or shotguns for trap shooting. He said the policy of storing firearms for WSU students has been in place for at least as long as he's been at WSU — 36 years. 
 Just across the border, University of Idaho students can still store firearms through a program administered by the Moscow Police Department. Moscow police Captain Tyson Berrett said the department typically stores about 30 firearms for UI students at any given time.
But that service is only available to UI students. Eight miles away and across the state line in Pullman, WSU's Hansen says they are encouraging students to make other arrangements — like with a local gun club. City of Pullman police say they're unable to store firearms for WSU students.