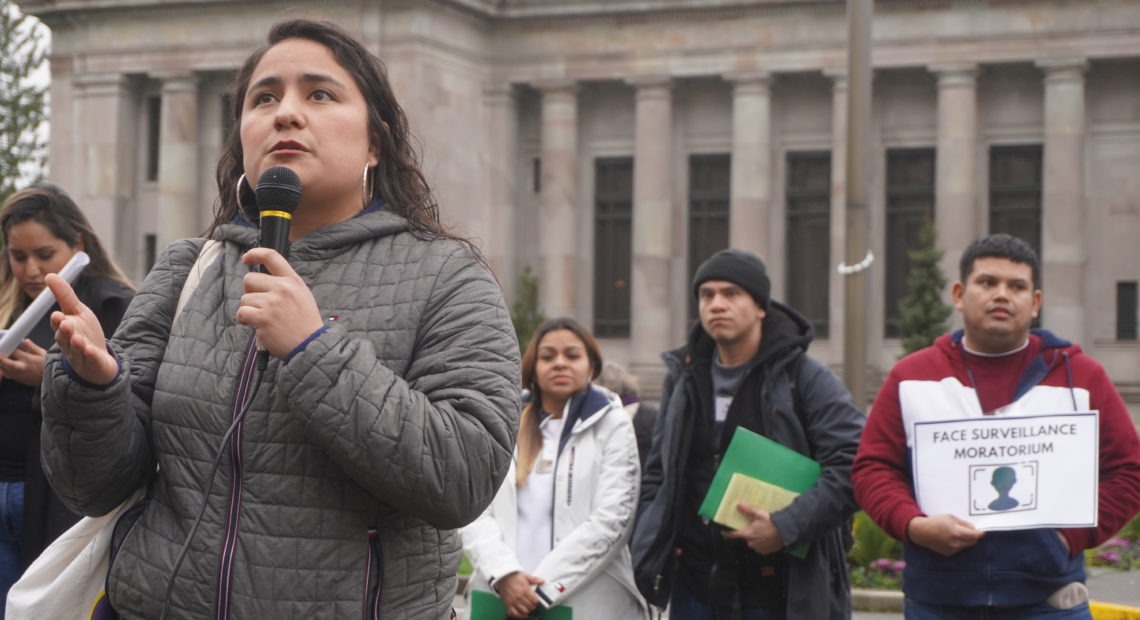 Immigrant-Rights Activists Demand Ban On Courthouse Arrests At Olympia Rally
Several hundred advocates from across the Northwest rallied in Olympia Wednesday demanding protections for immigrants in Washington.
Chief among activists' demands for state lawmakers is the passage of a proposed ban on civil immigration arrests in state courthouses. Federal agencies like ICE and the Border Patrol openly conduct arrests in courthouses, targeting residents like Saul and Wendy, an undocumented couple from Grant County. (NOTE: We're not using their full names due to their legal status.)
They told others at the rally they were each arrested by ICE on separate occasions near the county courthouse. Saul says he was approached by two agents who grabbed and cuffed him violently as he walked out, putting him into an unmarked vehicle, all while his lawyer watched.
According to ICE, agents are forced to conduct arrests in courthouses because state law prohibits local agencies from enforcing immigration law or collaborating with federal authorities.  But immigration-rights advocates say that creates a culture of fear that drives immigrants away from seeking court services. 
"When people are fearful of getting questions answered, when people are fearful of seeking justice, when people are fearful of coming for judgment, it really creates an environment that is not safe for all of us," said state Rep. My-Linh Thai, a Democrat from King County and chief sponsor of the courthouse ban proposal. 
The prohibition on civil immigration arrests near courthouses would apply within one mile of state courthouses. During a committee meeting Wednesday, Republican lawmakers expressed concern that the state may not have the authority to limit the federal government's jurisdiction to that extent. 
"If you go to Ephrata, Washington or you go to Davenport or another courthouse in one of my counties, a mile is out of town," Rep. Alex Ybarra said. "Law enforcement can't get anybody until they get out of town. I don't know if that's unconstitutional, because I'm not a lawyer, but I think it might be."
States like Oregon and New York have already barred ICE from entering courthouses. In 2018, Arizona instituted a time-based limit that protects witnesses from arrests, except for felonies, treason and disrupting the peace. 
In Washington, the Attorney General's Office filed a lawsuit against the Trump administration last December over courthouse arrests. Earlier this week, federal attorneys began attempting to block consideration of an amicus brief signed by more than a dozen retired state judges that support the state's lawsuit.
Not The Only Issue
Courthouse arrests were not the only issue on the minds of immigrant advocates as they rallied in Olympia. When Saul's partner Wendy was arrested by ICE at a Grant County courthouse, she spent three months at the Northwest ICE Processing Center in Tacoma — the state's only privately-run prison facility. Activists want it shut down. 
That could happen if a proposal to outlaw all private prisons is signed into law. Under the bill, the facility would continue to operate until the expiration of its contract with ICE in 2025, but the bill would prevent new facilities from opening. California passed a similar ban on private prisons last year and faces a lawsuit from the Trump administration.
 "Are we against private prisons? Are we going to end all detentions and deportations?" Maru Mora, an organizer with La Resistencia, asked the crowd gathered in the Capitol steps as they cheered. "Make sure you talk to legislators to say Washington is not open for this kind of business to make profit off people in cages."
That bill was passed by committee Thursday and moves on to consideration by the House.
Demonstrators also demanded a moratorium on facial recognition technology, which critics say is biased against people of color. A bill that would create a task force on facial recognition and outline local and agency requirements for using the technology is approaching a Friday deadline to move it to the Senate floor.