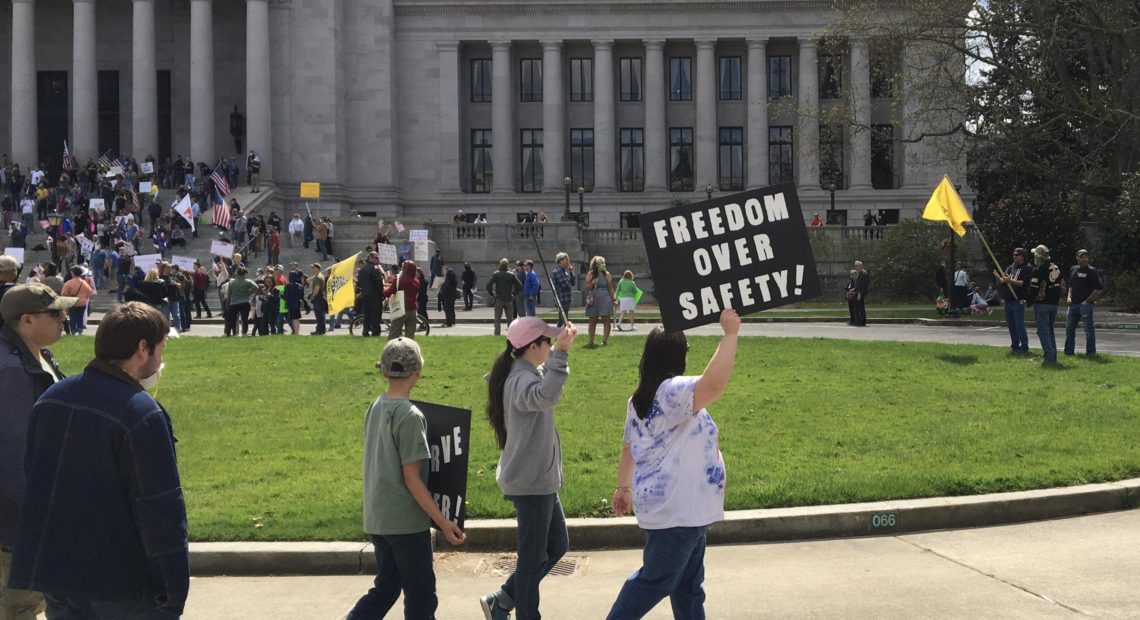 From Olympia To Richland To Moscow, Protesters Demonstrate Against Coronavirus Safety Measures
BY WILL JAMES, AUSTIN JENKINS, NICHOLAS DESHAIS & SCOTT LEADINGHAM
Protesters across the country have ignored government orders intended to slow the spread of the novel coronavirus – including in the Northwest.
Demonstrations from Olympia to Richland in Washington, to Sandpoint to Moscow to Boise in Idaho, have been organized by people flouting social distancing measures put in place for public health and to slow the spread of coronavirus.
On Sunday, protesters amassed at the Washington state Capitol to decry social-distancing measures and demand officials reopen the economy.
State police estimate 2,500 people gathered for the rally, some standing shoulder-to-shoulder on or around the Capitol steps as they chanted "Let us work" and "U.S.A." Few covered their faces or made efforts to stand apart from one another.
Trappings Of Trump Rallies
The Olympia protest had the trappings of the right-wing rallies supporting President Donald Trump that have grown common on the West Coast since 2016. Participants waved Trump flags and campaign signs.
Some marched in the black and yellow shirts worn by members of the Proud Boys (designated by the Southern Poverty Law Center as a hate group) while others stood by with assault-style rifles slung on their backs. Joey Gibson, leader of the group Patriot Prayer that attracts racist and violent members to its Portland and southwestern Washington rallies, made an appearance.
The Olympia protest was one of several around the United States over the weekend aimed at governors who have taken economically painful steps to slow the spread of the virus. Trump appeared last week to endorse actions in two Democrat-led states, tweeting "LIBERATE MICHIGAN!" and "LIBERATE MINNESOTA!"
Washington Gov. Jay Inslee's stay-at-home order is scheduled to expire May 4, six weeks after it was signed, but could be extended further.
Among protesters in Olympia interviewed by public media, some said they believed news of the novel coronavirus outbreak was invented or hyped as part of a conspiracy to assert government control or hurt Trump politically.
Others believed fears of the virus were overblown, and the benefits of social distancing weren't worth the economic fallout. Some echoed Trump's comparisons of the coronavirus to the flu. All said they were not worried about catching or spreading the virus.
"This is like another ailment," said Irina Alekseyev, who said she drove six hours to the rally from Spokane. "Maybe a little bit more people die than the flu."
Washington had 245 residents die of the flu in the 2018-19 flu season, according to the state Department of Health. So far, more than 600 have died of COVID-19, despite radical changes to everyday life that have stemmed the outbreak from being much worse.
Alekseyev said she was unable to work one of her two jobs, at a gym, as a result of government orders closing many businesses. Of the seven protesters interviewed, she was the only one who said she lost work because of social-distancing measures.
"I didn't really get personally affected by my employment, but some of my kids were very worried," said Alexis Wallace, who lives in the Olympia area. "They're adults and they live on their own, and they were really worried, and calling me like, 'Mom, what's going to happen?'"
Wallace said she believed social-distancing measures had gone on long enough to stop the coronavirus from spreading, despite public health officials saying otherwise.
"People I used to think were sane and levelheaded are really in fear," Wallace said. "They were like, 'Why are you going to this rally today? You're going to breathe on other people and you're going to kill people and it's going to be on you.' And I'm like, 'No, because we've already been in quarantine.'"
Public health officials say social-distancing efforts have only slowed the spread of the virus, which is still circulating in the state, and any loosening of those measures would cause it to flare back up.
"These are difficult and frustrating times," Inslee said in a statement in response to the rally. "I understand the urgency of this crisis. However, this is not the time to halt the progress we have made."
Lawmakers And Candidates Attend
Nearly a month ago, the four leaders of the Washington Legislature signed a bipartisan letter asking people to abide by the Governor's emergency orders. But over the weekend, several Republican lawmakers and politicians participated in the same protest in Olympia.
Among those in attendance: Republican gubernatorial candidate Tim Eyman.
"I am very concerned that during situations like this or 9/11 or other fear-intensive events that the government infringes on basic constitutional rights without sufficient questioning," Eyman previously said in a text to multiple reporters.
Eyman is just one of at least four Republican candidates challenging Jay Inslee not only for the governor's office, but for his response to stem the coronavirus spread. Another candidate, Republic Police Chief Loren Culp, previously called Inslee "a dictator" in an interview with the public media Northwest News Network.
Several Republican state lawmakers attended the weekend rally in Olympia, including State Representative Brad Klippert, ranking Republican on the House Public Safety Committee and a Benton County Sheriff's deputy.
"Six hundred people in Washington state are said to have died from COVID-19 but 600,000 people are out of a job because of COVID-19," Klippert said. "And the orders by the governor and they want to be able to go back to work to be able to provide for their families."
Klippert said he was exercising his constitutional right to assemble. The Washington State Patrol did not disperse the crowd or issue citations. However, the patrol says the governor's orders are legally enforceable.
Moscow Demonstration Against City Council
On Monday evening, following protests around the region, two men in Moscow, Idaho organized a protest for the regular city council meeting.
Gabriel Rench and Caleb Bouma put together the protest, which they called the "Liberate Moscow Peaceful Protest."
About 70 people said on Facebook that they were planning to attend ahead of the event.
The invite said the stay-home and essential business orders in place in Idaho have cost Latah County more than 3,000 jobs, at a cost of $22 million, citing a website called Restart Now.
If these folks are the reason Moscow restaurants & bars don't open earlier…

hands are being thrown pic.twitter.com/bSJPaQ94by

— Barstool Idaho (@BarstoolUIdaho) April 21, 2020
The invite also claimed that Moscow leaders based their decisions "off bad modeling on initial data from China, Iran, and Italy."
No city council members or protest organizers responded to requests for comment by late Monday afternoon.
Moscow Mayor Bill Lambert declared a local emergency last month, with the city council voting to close non-essential businesses until May 5. Similar statewide measures are set to expire April 30, after being extended by Gov. Brad Little.
Last week, several hundred protestors, many carrying guns, marched in Boise, saying Little's actions were unconstitutional. The same day in Sandpoint, a couple hundred people stood on the Long Bridge with similar complaints.
As of Monday, there were at least 1,700 COVID-19 cases in Idaho, and 48 deaths. Latah County has four confirmed cases and no deaths.
Contributing: Will James reports for KNKX in Seattle-Tacoma. Austin Jenkins is Olympia correspondent and Nick Deshais is Inland Northwest correspondent for the public media Northwest News Network. Scott Leadingham is news manager for Northwest Public Broadcasting.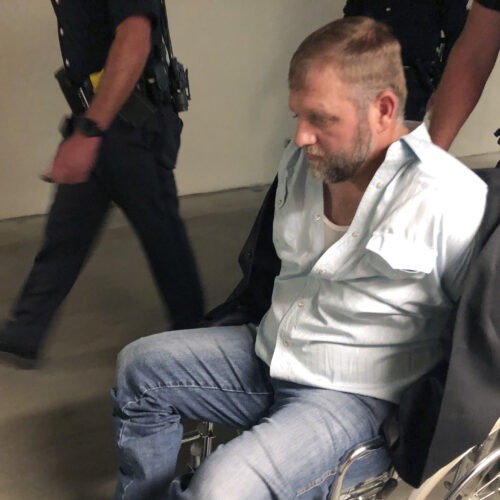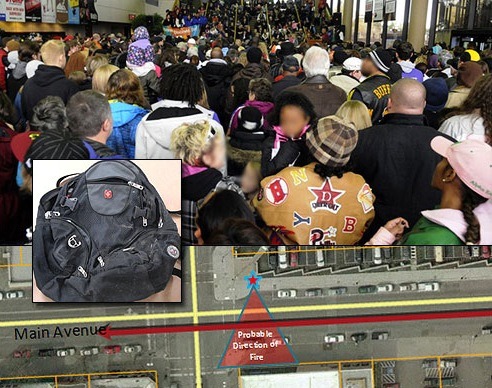 This week marks 10 years since a white supremacist attempted to bomb the Martin Luther King Junior Day parade through downtown Spokane. The bomb was discovered and defused just in the nick of time. But the effects of extremist ideologies in the region lived on. Journalist Leah Sottile examined that in the podcast Bundyville, from Oregon Public Broadcasting. Leah spoke with Scott Leadingham in August 2019 about the podcast's second season and the anti-government movement in the region. Continue Reading 10 Years After White Supremacist Tried To Bomb Spokane's MLK Parade, Extremism Is More Mainstream
As the violent mob broke into the U.S. Capitol last Wednesday, and livestreams showed pro-Trump insurrectionists defacing property and posing in the House Speaker's chair, here in the West, feelings of shock quickly faded to familiarity. "There are years of warning signs," said Eric Ward of the Western States Center, which tracks extremism in Oregon and the West. Continue Reading Roots Of U.S. Capitol Insurrectionists Run Through The West And Northwest