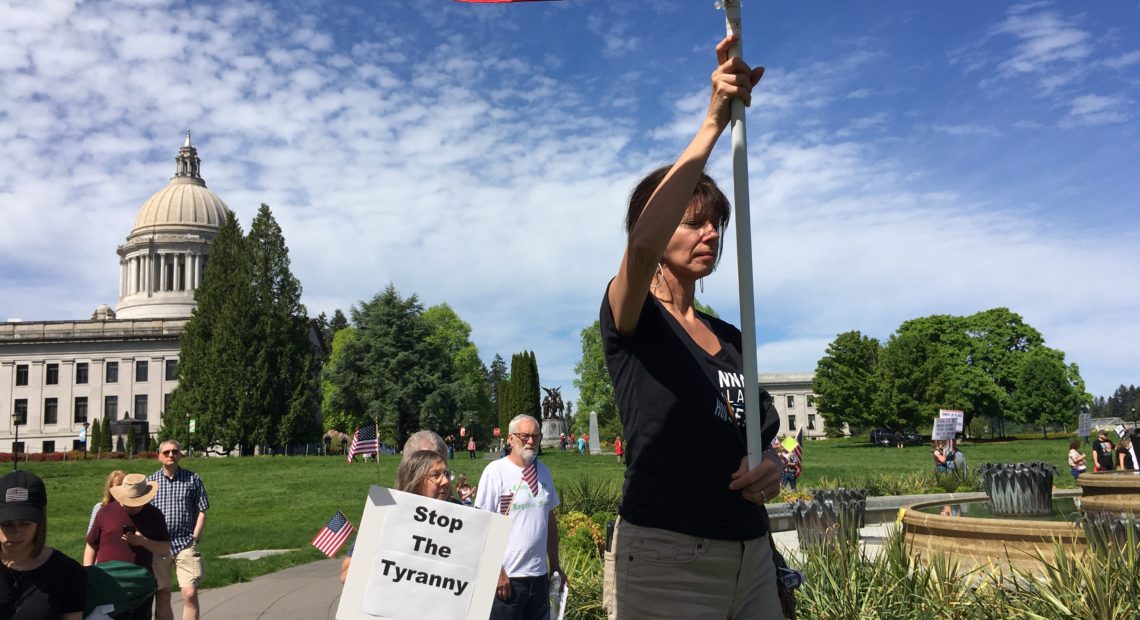 'Let My People Go': Opponents Of Coronavirus Measures Again Freely Gather To Protest In Olympia
QUICK LINKS: 
–Washington Coronavirus Information Page
–State Four-Phase Reopening Plan With Exceptions For Some Counties
–Washington Dept. of Health Coronavirus Cases And Death Toll
-Coronavirus News, Updates, Resources From NWPB
For the second time in a month, opponents of Washington Gov. Jay Inslee's extended "Stay Home, Stay Healthy" order – many of them openly carrying firearms — rallied at the state Capitol Saturday in an event that brought together sign-waving citizens, conservative state legislators, Republican and Libertarian candidates for public office and members of far right groups.
The unpermitted "Hazardous Liberty" event, which drew an estimated 1,500 people and stretched on for more than four hours, was smaller than a previous protest in April, but no less defiant in its message.
"How about, Governor Inslee, you stay in your nice little mansion there with your mask on all alone like 'Bubble Boy' and the rest of us are going to be brave Americans and love hazardous liberty," thundered embattled Republican state Rep. Matt Shea before leading the crowd in a chant of "freedom."
The rally, which also featured Joey Gibson of the pro-Trump group Patriot Prayer and several gubernatorial candidates, was held in violation of Washington's ban on large gatherings and came even as the governor begins a phased reopening of the economy which he is calling his "Safe Start" plan.
FACT CHECK: A Crosscut/Elway poll conducted April 18-20 showed 76% of Washington residents believed the coronavirus safety measures were working, and 61% were worried about ending the measures too early.
To date, under Phase One, the Democratic governor has given the green light to a range of businesses and activities, including curbside retail, car washes, landscaping, existing construction and outdoor recreation. On Friday, Inslee also announced that five smaller population eastern Washington counties with low COVID-19 rates could advance to Phase Two which allows, among other things, for restaurants to reopen at 50 percent capacity. Inslee has said the state could advance through his four-phase plan on an every-three-week schedule, presuming the virus doesn't flare up again.
But for many at the rally, the governor – who several speakers lambasted as a "king" – isn't moving quickly enough to restart the economy, even as the state continues to combat the virus that causes COVID-19.
"It's not fast enough," said Charles Eakins, a software engineer and two-time Mukilteo city council candidate who carried a "FIRE INSLEE" sign. "I don't want to see my fellow Washingtonians without work, it's getting ridiculous."