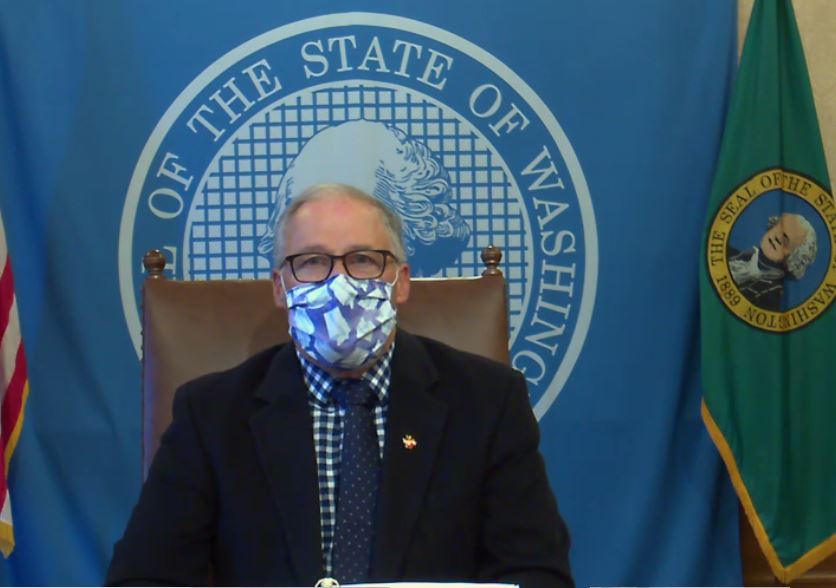 Governor Inslee Moves Remaining Washington Counties To Phase 2; Whitman County Adds Deaths
QUICK LINKS:
–Washington Reopening Phases And Business Guidance
–Washington Coronavirus Information Dashboard
–Coronavirus News & Resources From NWPB
No more Washington counties will be in Phase 1 of the state's four-phase reopening plan. Gov. Jay Inslee announced Tuesday that Chelan, Douglas, Yakima, Benton and Franklin counties could advance to Phase 2.
He praised elected officials, agricultural employers, farmworker organizations and residents throughout the region for wearing masks in public.
"It is a testament to the commitment of citizens to do scientifically credible things to save themselves. And that's what they have done," Inslee said in a news conference announcing the advancement in phases.
The counties, which include the Tri-Cities region and much of central Washington, were previously in a modified Phase 1, with some business activity already allowed under Phase 2 guidance.
Three months ago, the governor and state health secretary paused all counties advancing to further reopening phases as COVID-19 spread.
Inslee also announced a new effort called the Washington Recovery Group. It's meant to help coordinate agencies working on long-term health and economic recovery from the pandemic.
The group will be housed under the state's Office of Financial Management in a partnership with the Emergency Management Divisions the state military department (National Guard).
Not All Good
The news, however, is not all rosy for Washington counties. On Tuesday state health officer doctor Kathy Lofy and the governor agreed: All is not well. They say case rates are climbing in the state's largest urban areas – the Puget Sound region, Clark County, and Spokane County. And, they said, people need to keep using masks – in public and when hanging out with friends indoors.
 "The more people that wear the masks, the more lives we save, and the faster we will build our economy. That's the thing we are focused on right now – on the thing that we know works," Inslee said.
Additionally, Inslee said the situation in Whitman County is concerning. Pullman has seen a huge spike in cases since Washington State University students returned in August. Hospitalizations are up in the past two weeks.
And since October 6, three people over age 60 have died, with the third death announced by Whitman County's health department on Tuesday, Oct. 13. They mark the first COVID-caused deaths in the county since the pandemic began. Health officials previously said they were worried about the possibility of the WSU outbreak in the student population spreading into the broader community.
Inslee said Tuesday that he and the state health department don't have any immediate plans to put additional restrictions in place for Pullman or Whitman County. But it is possible to roll any county back into a previous phase of reopening. Inslee reiterated what he's said multiple times in updates over the past six months about further reopening or counties moving backward.
"Those conditions are dependent on what happens with the virus," Inslee said.