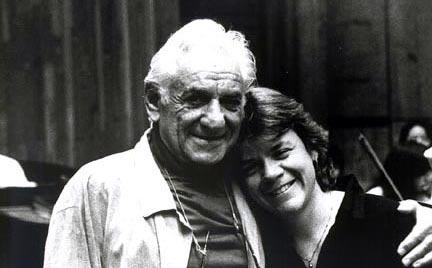 Passing The Baton: Bernstein To Alsop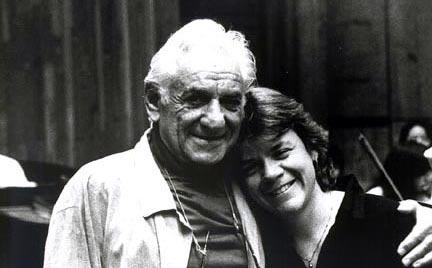 Many of us admire our musical idols from afar – maybe through keepsakes like concert ticket stubs, autographs or posters taped to our walls. Marin Alsop had two posters up in her New York City bedroom growing up – one of the Beatles and the other of the man who inspired her to become a conductor – Leonard Bernstein. Bernstein ended up becoming more than the man on her poster – her biggest hero became her mentor, teaching her how to be the "messenger of the composer" and passing along his gifts for storytelling. 
Leonard Bernstein was an international superstar by the time he dazzled a nine-year-old Marin Alsop at a New York Philharmonic concert – all it took was one concert to convince her she was destined to follow in his footsteps and become a conductor. She studied as a violinist through her earning her masters at Juilliard, started conducting as a young woman and eventually met her idol, becoming his student at the Tanglewood Music Festival in 1988. She found that Bernstein was committed to the composer, first and foremost, and above all was dedicated to uncovering the composer's intentions and story. He not only passed on this dedication to the music to his protege but shaped her life with his generosity and kindness. Some days, they shared in their joy of music over a piano, where Bernstein played and sang tunes by those other guys on the wall of her childhood bedroom, The Beatles.  
She said "He also gave me an incredible confidence to be myself. I think, this is a tremendous gift for a teacher to try to bring out the best in someone. And that's really the objective of a conductor – to enable people to be the best they can be."  
Bernstein had a ground breaking career – he was the first American to win international success as a conductor and the first American to lead a major American orchestra. His protege was no different – Alsop went on to become the first woman to conduct a major American orchestra, the first and only conductor to receive a MacArthur Fellowship and has traveled the world conducting many of the world's best orchestras.  
Bernstein's legacy continues through his students like Alsop – continuing the tradition of serving composers, spreading love for music and crossing boundaries.  
A Music Moment on Northwest Public Broadcasting. Passing the Baton: NWPB Classical highlighting Music Mentors.