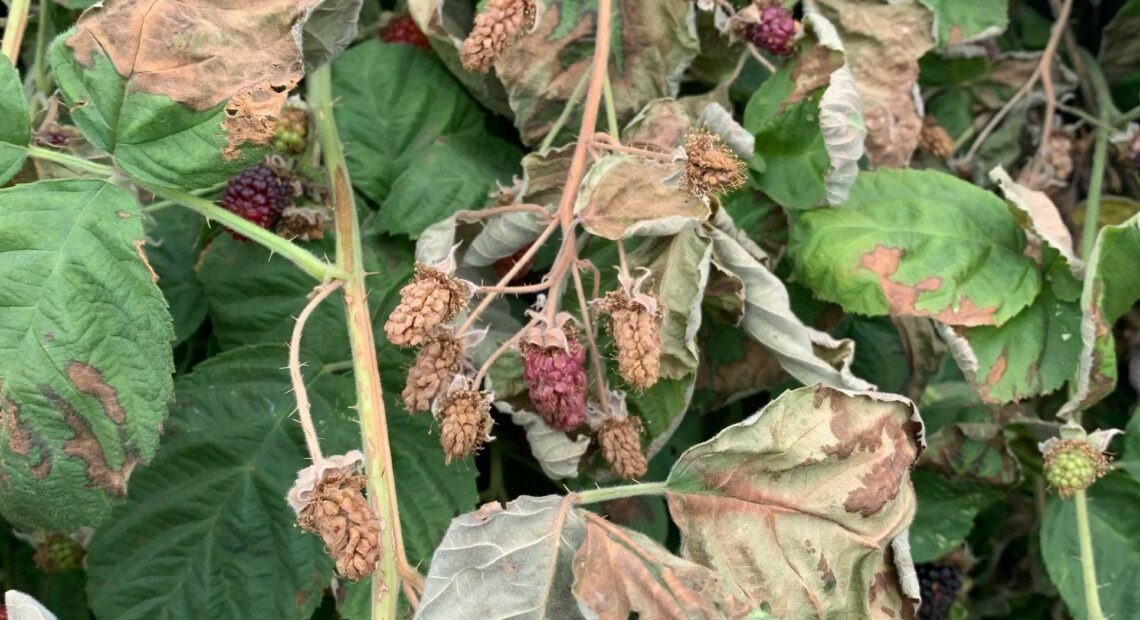 Berry Bake: Northwest Blueberry, Raspberry, Blackberry Crops Might Be Roasted From The Heat Wave
Blueberries, raspberries and blackberries from Oregon to Washington to British Columbia are baked on the bush and vine. 
Growers are calling the heat damage widespread and catastrophic. 
Most West Coast blueberry growers were just getting ready to harvest the most-common Duke variety. Then the heat wave hit. The berries got soft, but not ripe. Some were burned from the intense sun. The still-green berries now have brown seeds inside indicating they are sun-damaged too and might fall off the bush or stop growing. 
It's crushing news to an industry in the region that produces the large majority of the nation's blueberries from July through September. Growers warn it could lead to nationwide shortages later this summer. 
"We think there is damage coming that hasn't revealed itself," says Alan Schreiber, who leads the Washington Blueberry Commission. "Here's the thing, we've never had this happen before. We don't know. We've never seen plants subjected to this."
Schreiber says growers won't know how extensive the damage is until later this summer. 
"Black Hole Sun"
Also grappling with the heat dome damage are raspberry growers north near Lynden, Wash., and blackberry growers in western Oregon.
Much of this year's Northwest raspberries and blackberries are doomed to juice. It tastes good. But juice just doesn't pay growers as much.  The fresh berries you buy at the store mainly come from California and Mexico. But those frozen berries in plastic bags are mostly Northwest fruit. 
Raspberry growers were just getting ready to pick when the damage came. Now those berries are mostly dehydrated, or roasted on the vine. As much as 90 percent of the crop could be damaged. 
Henry Bierlink, executive director of the Washington Red Raspberry Commission, says some might not even make juice.  
 "Well, they're shriveled up, there isn't a lot of moisture left in them anymore," he says. 
Blackberries in Oregon are damaged, too. 
Oregon Raspberry and Blackberry Commission marketing director Darcy Kochis is based in Portland.
"The leaves are burned, the berries are burned," she says, "did the young plants and young growth that will be the berries next year get damaged? We're still not sure." 
She says many of Oregon's growers are multigenerational farms, but they've never seen damage like this. 
"It's going to vary by region and field and the direction of their rows. Things that were south and west facing were hit the hardest," Kochis says.
All of the groups representing berry growers say they are planning to request federal disaster aid, and that they won't know the true extent of the damage to the plants this year until later this summer and when next year's crop ripens. That's because the heat may not have damaged only this year's fruit, but the plant's ability to produce in the future.