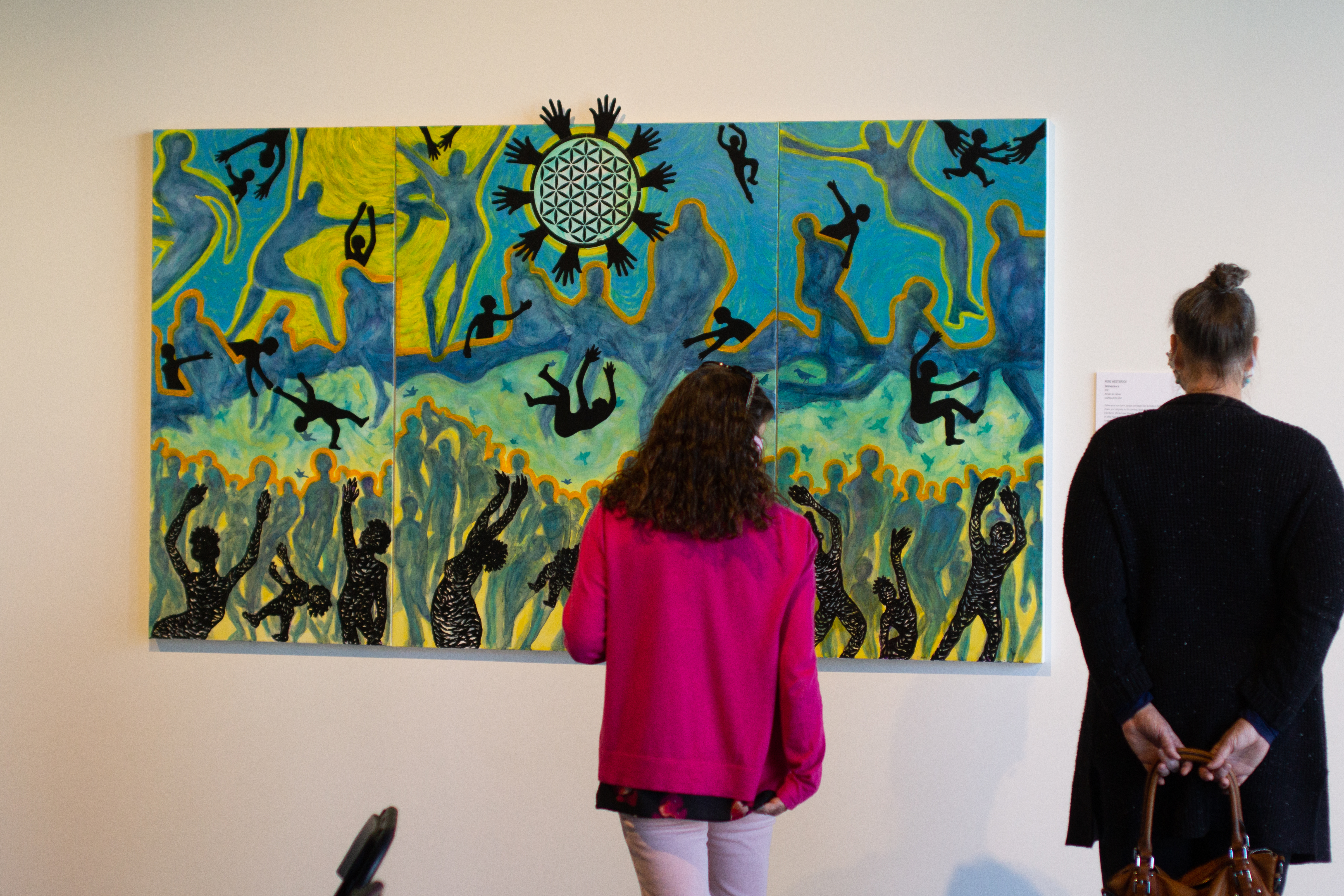 Washington Artists Explore Hopes, Fears, In Black Lives Matter Exhibit
BY RACHEL SUN
When Jasmine Iona Brown first started a series of memorial icons following the murder of Trayvon Martin in 2012, she said she was reminded of her own son who was quickly approaching his teenage years. 
Brown currently has three pieces, modeled after her son, displayed at the Jordan Schnitzer Museum of Art at Washington State University. She's one of 20 artists whose work was selected as part of the museum's $50,000 Black Lives Matter artist grant program, which was started by Schnitzer last year.
Following Martin's death, Brown kept thinking about how the rest of the world would see her teenage son. During a conversation with a white neighbor, the woman admitted that she was scared of Black men.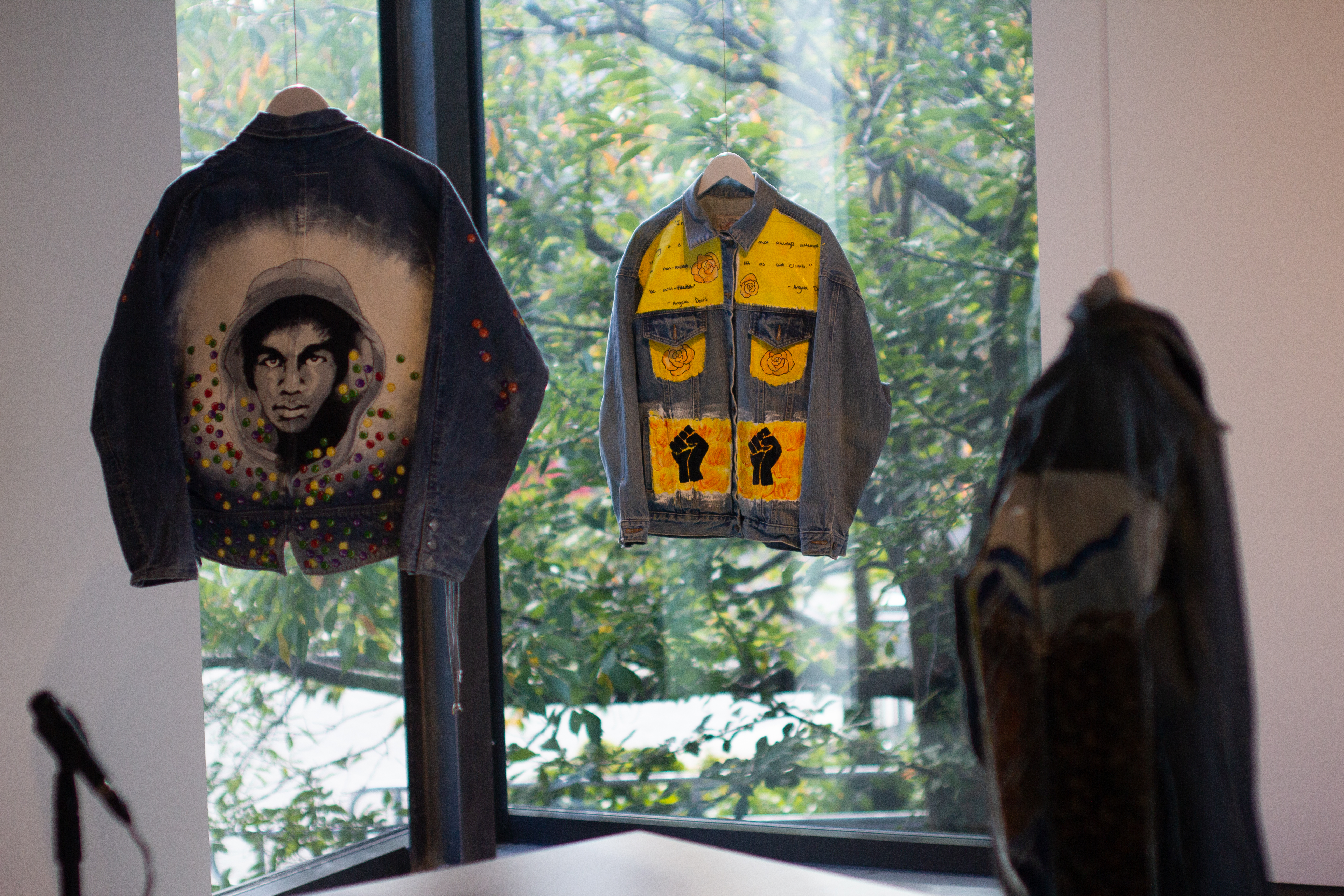 "I asked her, I said, 'Would you be scared of my son?' And she's like, 'Oh, I know him.' And I said, 'The last time you've seen him, he was six years old. He was a cute little boy the last time you saw him. Now he's a teenager wearing a hoodie. How would you see him now? Would you be automatically afraid? And why? So that's what prompted that series for me," Brown said.
Her work, and the rest of the exhibition, will be on display at the museum through Dec. 18 of this year, alongside "Mirror Mirror: the Prints of Alison Saar," on display through March 12 of 2022. 
As the grant benefactor, Schnitzer said he was moved to action last summer, and hopes the death of George Floyd and the events following it have "shaken every American to their core." 
But before Floyd's death, or the protests that followed it, many of the artists said their installments at the museum are the embodiment of hopes and anxieties that far precede the slogan "Black Lives Matter," or the protests of 2020.
Rene Westbrook, another artist featured at the exhibit, grew up in a family of social activists. She remembers seeing posters and artwork from the civil rights movement and wanting to be a part of it.
"I had a voice, but I didn't have the language," she said. "The visual construct of imagery became far more the language for me. The language of allegory, the language of symbol, the language of visualization."
Westbrook's two works at the Museum, "Hieroglyphs of Hate" and "Deliverance" are hung next to each other on the museum wall. The first, a collection of 16 panels depicting silhouettes in red, white and black, shows the pain and suffering inflicted on Black people past and present. "Deliverance" shows Black figures lifting each other up.
"They're being brought up through the passage of us helping each other," Westbrook said. "So 'Black Lives Matter' is that we matter to each other first. So in the painting of the deliverance, the Black bodies are actually not painted on. They are appliques. They're black figures that are raised off of [the painting], because I wanted those to be perceived, separate. Because they're being pulled out of the cauldron of racism and hurt and pain and suffering."
For Trymaine Gaither, a jury member for the artist grant and Special Assistant to the Provost for Inclusive Excellence at WSU, Westbrook's work struck a chord with his own experience. He also connected with words written by grant artist Aisha Harrison on her website, which states, "my work is a struggle between my deepest fears and my most hopeful hope in humanity."
"That struggle is what I feel as well, as a black man. I can relate to the artists, as they sort of tapped into their deepest fears, and yet, their greatest hope," he said. "I really connect with that tension. And connect with that desire to visualize justice."
Gaither said he hopes when visitors come to the museum they'll be open to not only an intellectual experience, but one from the heart.
"Allow yourself to feel the paintings, to feel the pain, feel the fear, the remembering," he said. "The memories of past wrongs. We're all attached to that history, it's not Black history, it's our history.  There's the story of the victim and there's also the story of the victimizer. So let's feel it."
For grant winner Hasaan Kirkland, a major theme in his work is capturing the white gaze, and the consequences of it — those including the murder of Trayvon Martin, or the fear for her son embodied in Brown's exhibit.
In one of his works, a painting is captured through a keyhole, he said. That perspective reflects how Black people are often seen, or not seen.
"[It is much like the limited percentage of how white gaze looks upon black existence, much like looking through the keyhole, rather than opening the door," he said. "If you open the door to relationships, oftentimes you're welcomed in to learn and engage person to person, people to people, culture to culture. But if you only peek at us through the keyhole, you'll never see the magnitude of who we are. And what you're seeing is the imagination of your fear on the other side."
Artist Lisa Myers Bulmash said she wants visitors to be moved, but more than that, she wants works in the exhibit to inspire action. 
"It's great that you have an emotional response to my work. In fact, I would be very disappointed, and I would feel like I had failed if you didn't have a response to my work," she said. "But what are you going to do when you leave the museum?"
Her work at the exhibit includes "The Manticore and The Mermaid" collage series, inspired by the story of Ona Maria "Oney" Judge, a woman who was enslaved by, and escaped from, George Washington. 
The work also follows a theme she sees in the present day, Myers Bulmash said — a desire for gradual change that doesn't disrupt the status quo. In one of her paintings, she uses an excerpt from a letter Washington wrote in his attempts to recapture Judge.
"The sentiment from that letter has come up again and again and again. 'I don't think they're ready for freedom,'" she said. "If you go back far enough, and if you look hard enough, I think you will find somebody at some point, saying, 'Let's take this gradually.' Well, it's been more than 200 years. 500 years if you go from 1619 to the present. What needs to be more gradual?"
Io Palmer, an associate professor of fine arts and jury member for the exhibit, said as one of the few black professors at the University, it made her glad to see the artist exhibition coming to campus. 
There's a limited number of students and faculty of color at WSU, Palmer said — some of her students have even told her she was the first Black professor they ever had, and how meaningful it was to them. 
Having the exhibit come to the community is especially meaningful where students and faculty of color alike see little representation as a whole, much less in institutional power structures.
"I was, in general, just happy that so many people contributed their time and their energy to this show, and to showcasing work being created in this region about social justice," she said.
Art has always been deeply rooted in Black culture and resistance, said Mikayla Makle, a grant jury member and Black Student Union president. In the case of the exhibit, it's also a deeply personal connection for students to their families and communities. One friend saw family friends in a video displayed in the exhibit.
"I really encourage everybody to read the plaques that we have on the wall, because it does showcase those stories," Makle said. "When you go into this art museum, you're not just here for the aesthetics, you're not just here to see some art and leave, you're looking at people's stories, you're looking at experiences that people have gone through."