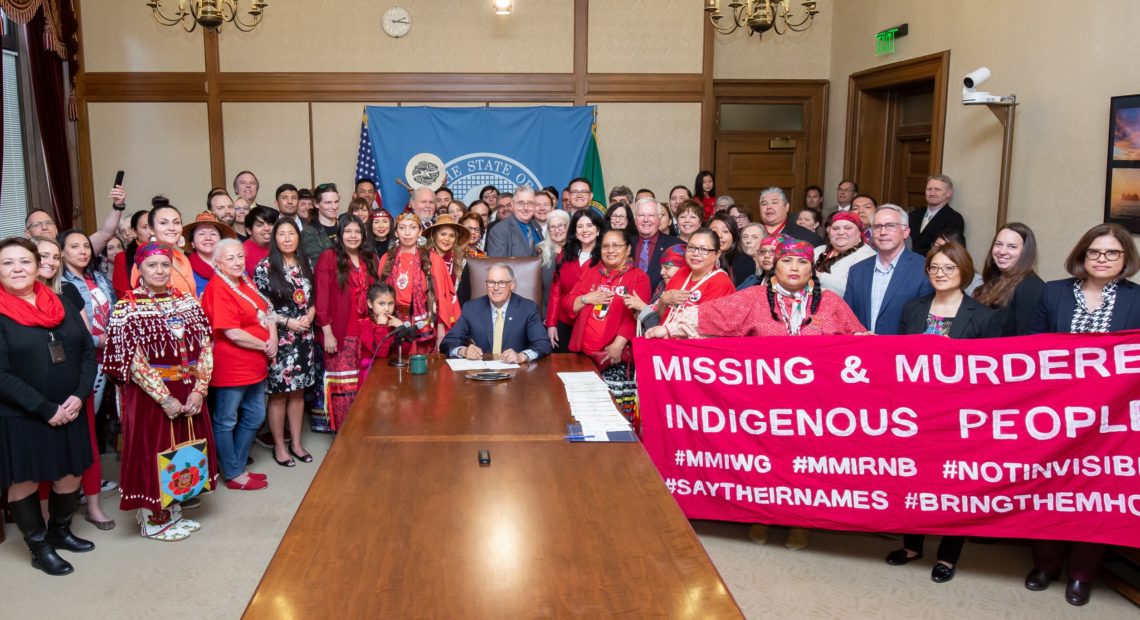 New Washington Law Seeks To Further Address Missing And Murdered Indigenous Women
TOP PHOTO: The governor's conference room was full Wednesday, April 24, 2019 as tribal members from throughout Washington watched Gov. Jay Inslee sign Rep. Gina Mosbrucker's House Bill 1713 into law. Courtesy of Washington House Republicans Communications
In what's being called a significant step for tribal communities, Washington state has a new law seeking to address the epidemic of missing and murdered Indigenous women.
House Bill 1713 requires the State Patrol to write best practices for how to investigate those crimes. The new law also creates two state patrol positions to work on cases of missing Native people.
Tribal advocates are praising the change.
Earth-Feather Sovereign of the Confederated Tribes of the Colville Reservation founded the non-profit Missing and Murdered Indigenous Women of Washington.
"This doesn't only affect our missing and murdered Indigenous women or girls, it also affects our two-spirit. So this will help repair the system for everybody," Sovereign said.
Washington has among the highest number of cases of missing Indigenous women in the country.
It follows up on a 2018 Washington law sponsored by state Rep. Gina Mosbrucker (R-Goldendale), who also sponsored and advocated for this new law.
"This is a significant day for tribal members on and off reservations across our state. It helps to break the silence involved in this issue and creates a coordinated effort to bring together tribes, government, and law enforcement in the investigations of missing Native Americans in our state," Mosbrucker said in a news release ahead of the signing ceremony Wednesday.
The Associated Press reported:
A report from the Urban Indian Health Institute, a federally funded nonprofit, ranked Washington second among states by number of cases overall.

The report identified some 500 missing persons and homicide cases involving Native American women in 71 cities after reviewing data obtained through media reports and public records requests sent to police departments.

In total, Annita Lucchesi, a cartographer and author of the report, has a list of some 2,700 names from the United States and Canada. While the cases date back to the 1940s, roughly two-thirds were from the past eight years, Lucchesi told The Associated Press last year.

A 2010 federal measure, the Tribal Law and Order Act, required federal authorities to provide legal and investigative assistance and training to tribes, but the Inspector General found the Department of Justice hadn't prioritized it.

Instead, the report found that overall resources from the Justice Department, which oversees the FBI and is charged with prosecuting serious crimes on reservations, had actually decreased.
The new law takes effect in 90 days.
NWPB staff and information from Associated Press reporter Tom James contributed to this story.