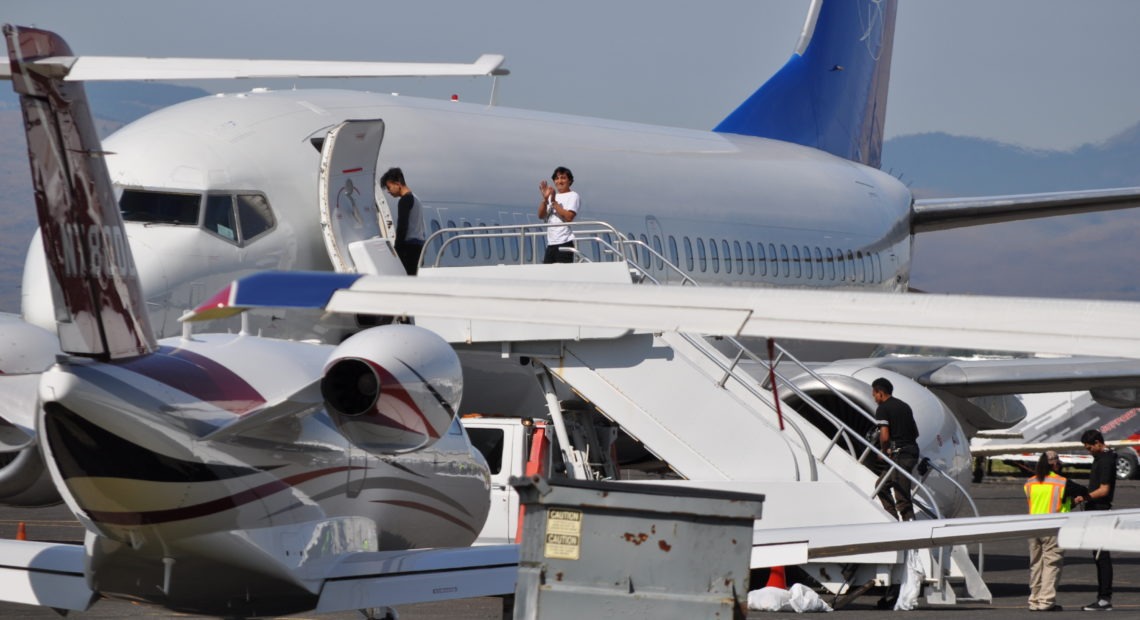 Report Criticizes Yakima For ICE Deportation Flights, As City Explains Financial Quandary
Since U.S. Immigration and Customs Enforcement moved flight operations from King County to Yakima in May, central Washington has played a growing role in federal deportation proceedings — and local activists have responded.
Activists from the Yakima Immigrant Response Network witness every flight, which take place twice a week, form a city-designated 'First Amendment' area porting anti-ICE signs, waving at detainees and shouting on repeat: "No estas solo. You are not alone."
As detainees climbed a stair car owned by the city of Yakima Tuesday, their hands and legs in chains, they wave back to activists on the ground. 
Meanwhile, Immigrant Response Network volunteers take a tally of every person who boards a flight operated by ICE subcontractors. Eighteen deplaned, likely headed for the Northwest Detention Center in Tacoma, and 88 climbed aboard on their way to El Paso, likely to be deported.
While the Yakima County Department of Corrections has a long-standing contract with Immigration and Customs Enforcement to hold people for deportation, a new report from the University of Washington Center for Human Rights (UWCHR) estimates that on average 160 people in ICE custody now flow through the Yakima airport each week.
"That means that our public entities whether it's the county jail or city of Yakima, running the airport, need to consider what are the ethical implications of being involved in that work that we know is committing human rights abuses on a regular basis?" Angelina Godoy, director of UWCHR, said. "Are these the kind of business partners that we want our public entities to have?"
UWCHR previously reported on allegations of abuse on ICE deportation flights, citing a Department of Homeland Security complaints log. In May, non-profit news outlet ProPublica found 214 complaints filed against federal agents for abusing or mistreating children in detention.
But the new report found no cases of physical abuse on flights to and from Yakima, partly because the flights have only started recently and ICE is protective information on abuse, Godoy said. 
Even if no physical abuse of detainees has occurred on flights to and from Yakima, the region has become a bigger part of what Godoy calls the "profit-making network" of deportation. According to the UWCHR report, "Yakima would remain responsible for its role in shipping detainees to be abused in other sites."
"This is a network that operates with no virtually no transparency and very little accountability," Godoy said. 
But the city of Yakima keeps a close eye on ICE operations happening locally, city spokesman Randy Beehler said.
"It's hard to comment on something that's a conclusion, a perspective, than something that's supported by evidence," Beehler said on the UWCHR findings. "The (UW report) itself says that those kinds of reports have not surfaced in Yakima. I think that speaks for itself."
Since May, local observers from the Yakima Immigrant Response Network and the city have counted about 1,900 people getting on and off ICE flights operated by private carriers like Swift Air and World Atlantic Airways. Flights transport detainees to and from the region about twice a week.
The increase in movement of people detained by ICE signals a growing financial relationship between local Yakima governments — the city and county — and the federal deportation network, according to Godoy. 
According to the report, Yakima County has earned more than $1 million dollars since 2015 in their agreement to hold detainees for ICE. The county Department of Corrections bills ICE $84.51 for every day a federal detainee is held at the Yakima County Jail. 
The city of Yakima does not have a contract with ICE, but according to UWCHR, the city earns revenue from ICE through airport fees. 
ICE's air broker, Classic Air Charter (CAC), subcontracts to private carriers like Swift to operate flights. For every flight, the city of Yakima charges CAC $260 for use of city-owned facilities like a stair car. The report also found that the city has charged CAC between $110 and $220 dollars for "operations security" for at least seven flights.
But the City of Yakima has more to lose than airport fees, which every flight — ICE or not — is subject to and are a small source of revenue in the city budget. At a July 16 city council meeting, officials expressed worry that action against the flights could put federal grants for the airport in jeopardy.
"Runways have been resurfaced, the tarmac has been redone, the lighting system, the fire suppression equipment at the airport, the security equipment at the airport. All of that money that we get from the Federal Aviation Administration goes to those kinds of costs," said Beehler, the Yakima city spokesman.
The city has received about $19 million in federal grants for improvements over the last 10 years, Beehler said, which on average cover 90 percent of costs. By receiving the grants, the city is legally obligated to operate the airport for public use and service federal government aircraft.
The city also has a contract with McCormick Air, the fixed-base operator in charge of servicing flights there and whose lease is up in 2044. Beehler adds McCormick Air consistently passes daily, quarterly and random inspections of their facility infrastructure and security measures.
In a close vote at the July 16 meeting, the city council voted 4-3 against prohibiting ICE flights through an executive order, a move that would have mirrored action taken in King County. But with an election coming in November with four council seats up for grabs, some are hopeful a new vote would have a different outcome.
Ben Rodgers manages Liz Hallock's campaign for city council, a candidate in favor of executive action against ICE flights in Yakima. 
Though the potential loss of revenue in grants and airport fees is a big threat to the city budget, the abuse happening in Yakima through deportation proceedings is much greater, Rodgers said. 
"It's gross," he said. "The idea that our city is profiting out of being complicit in the suffering that you can't avoid seeing here, it's gross and disheartening."