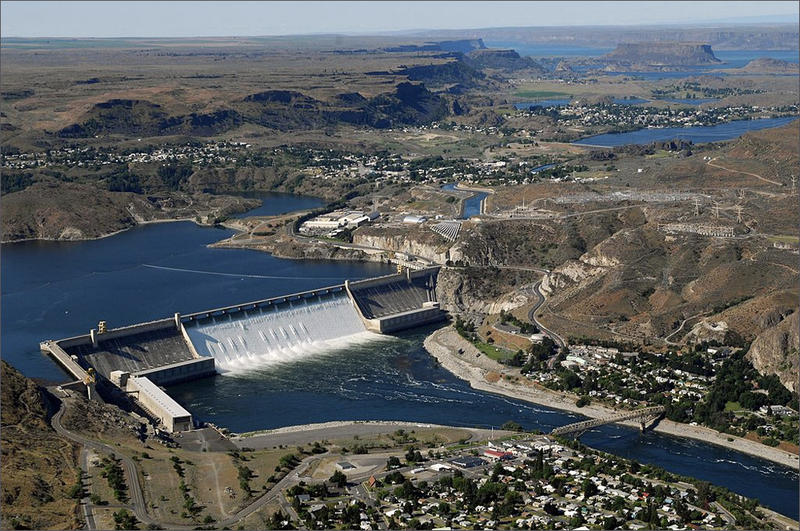 Central And Eastern Washington Have A Lot Of Dams. How Will They Fare In An Earthquake?


NOTE: Northwest Public Broadcasting is participating in the Great Shakeout earthquake preparedness exercise on Thursday, Oct. 17 at 10:17 AM. See more resources here.
If you live at the foot of a dam – or downriver – you may wonder what could happen if an earthquake rumbled nearby. Dam managers say it's something they're constantly watching, but major shaking east of the Cascades shouldn't cause too much damage.
"We are concerned (about earthquakes), but we're not concerned from an overall public safety standpoint," said Bill Christman, Chelan County PUD's chief dam safety engineer. "The dams on the Columbia River are naturally constructed to resist a big volume of water through just their own weight."
RELATED: Be Two-Weeks Ready For Post-Earthquake And Other Disasters
Chelan County PUD manages three dams in central Washington: Rocky Reach and Rock Island on the Columbia River and Lake Chelan, on the southeastern edge of the lake.
There are fault lines east of the Cascades, even though threats of "The Big One" earthquake striking off the Pacific Coast garner more headlines. These smaller faults couldn't produce as large an earthquake as the coast's Cascadia Subduction Zone.
These faults are closer to the surface and closer to cities and towns, according to the Washington Geological Survey. 
The biggest earthquake in Washington's history – a magnitude 6.8 – hit in 1872 near Chelan.
That's something dam managers are aware of, even if these quakes are very rare.
"We've got earthquakes every day. Most of them are small enough that nobody felt them," Christman said.
When earthquakes reach about a magnitude 3.0, that's when you can more easily feel them – what dam managers call "felt events."
"Whenever we get a 'felt event,' we expeditiously head out to the hydro projects and inspect everything that we think could have been damaged or adversely affected," Christman said.
The big concern is an unexpected release of water.
But they don't expect a dam to fail because of an earthquake from one of these fault lines. But managers are still reinforcing dams to ensure they're safe.
Chelan PUD is securing important equipment that's sitting on hydroelectric projects, such as transformers. They're also assessing power transmission and distribution systems to make sure they don't fail after an earthquake – like what happened with the 1989 Loma Prieta earthquake near San Francisco.
Grant County PUD, which manages Priest Rapids and Wanapum dams upriver from the Tri-Cities, reviews the stability of its structures as new information is available, said spokesperson Ryan Holterhoff.
Among other work, the utility district is starting work to reinforce part of the embankment near Priest Rapids Dam.
"The project involves building a reinforcement structure on the downriver side of the existing right embankment. Seismic studies identified potentially liquefiable soils under a portion of the right embankment that may cause the structure to lose strength during an extreme earthquake," Holterhoff said.
Safety managers at the U.S. Bureau of Reclamation say many of the dams they manage in Washington and Oregon have a low risk of sustaining damage during an earthquake.
"We're constantly monitoring risks. We modify the dams as needed, and we practice emergency management scenarios with local agencies," said Chris Regilski, the bureau's dam safety coordinator in the Northwest.
Even though earthquakes east of the Cascades are very rare, it's best to be prepared, said Chelan PUD's Bill Christman.
"We tend to look at it as having a great, effective, efficient emergency response, given an earthquake," Christman said. "We don't know if it's going to be an earthquake, or a really big wind storm, or the big snowstorms that we had in '95, '96 – what will be the next challenge."
Editor's Note: Chelan County PUD is a sponsor of Northwest Public Broadcasting. Sponsors have no bearing on news coverage.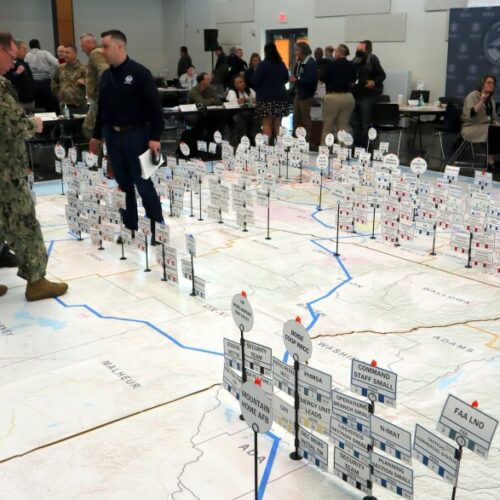 Close to 200 federal, state and tribal emergency preparedness planners gathered around a giant map of the Pacific Northwest this week to rehearse and critique the federal response plan for "The Big One." The three-day Cascadia earthquake discussion exercise partially replaced a much bigger planned dress rehearsal that was canceled due to the coronavirus pandemic. Continue Reading Rehearsing For 'The Big One' On A Room-Sized Chess Board