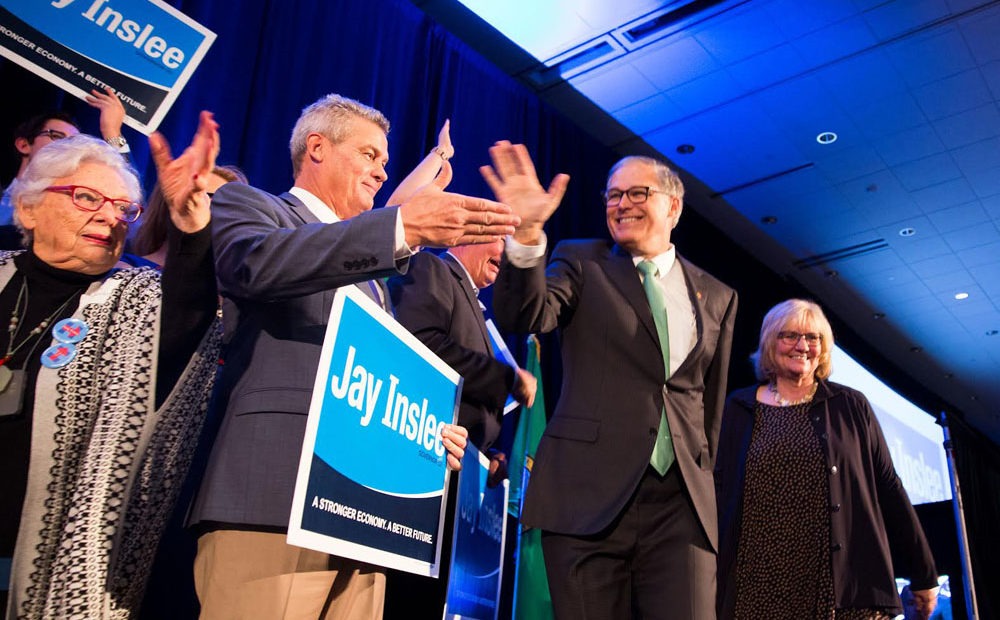 Jay Inslee Is Running For A 3rd Term. Here's What His Opponents Think Of His Coronavirus Response
Washington Gov. Jay Inslee has been called "an example of effective crisis leadership." 
His early intervention in the coronavirus outbreak, along with other West Coast governors, is credited in having helped mitigate "the medical catastrophe that has befallen New York and parts of the Midwest and South."
After Inslee returned 400 ventilators to the Strategic National Stockpile, Vice President Mike Pence had kind words.
"Thank you, @GovInslee," Pence wrote on Twitter. "We're all in this together."
Not all Washingtonians agree that Inslee has done well — especially the people who want his job.
As the nation grapples with the coronavirus pandemic, politics are still very evident. Not only is Inslee leading Washington's response to the public health crisis, he's contending with pushback from Republican opponents in this year's race for governor.
The opponents
Loren Culp, the police chief of Republic in Ferry County, and self-proclaimed "constitutionalist," said last week that Inslee was acting like "a little North Korean dictator telling us what we can and we can't do in our private lives."
Earlier this month, Republican state Sen. Phil Fortunato demanded that Inslee allow residential home construction, and shared a post about the city of Lynden allowing construction despite Inslee not including it as an "essential business." The post praised the flouting of Inslee's order, saying "this is what rebellion looks like."
Former Bothell Mayor Joshua Freed said Inslee's decisions were "starving families in Washington," and called Inslee's decision to close schools "reactionary," "premature" and "misguided." 
And in March, anti-tax activist and professional initiative sponsor Tim Eyman invited people to "stick our finger in the eye of Jay Inslee" by holding a rally of 250 people three days after Inslee restricted gatherings of that size. 
"I'm bringing a 6-pack of Corona!" Eyman wrote on Facebook. 
Only 60 people showed up, but Eyman's trying again on Sunday, April 19. His "Protesting Jay Inslee" event in Olympia is "all about" the governor, Eyman said, "who is doing things that are just really scary, acting like a dictator."
"I wouldn't be a dictator"
Inslee is running for a rare third term as governor of Washington, a post he's held since being elected in 2012. Before that, he served eight terms in the U.S. House of Representatives. He was the last Democrat to represent central Washington in the 4th Congressional District, which includes Yakima and the Tri-Cities. In 1999, he was elected to represent the state's 1st Congressional District in the Puget Sound region.
The governor's spokesman, Mike Faulk, said the governor is following the guidance of public health officials, and his proclamations are within his authority.
Inslee's authority is reined in by state law, specifically RCW 43.06.220, which says that Inslee's orders will expire after 30 days unless the Legislature extends them. They can also be extended by the majority and minority leaders of the state Senate and House.
His opponents don't have his elective experience, but that hasn't stopped their criticism of his decisions. Culp has been the top lawman in the small Ferry County town of Republic, population 1,340, for more than three years. 
He made news in 2018 and 2019 by refusing to enforce a statewide gun control initiative pas